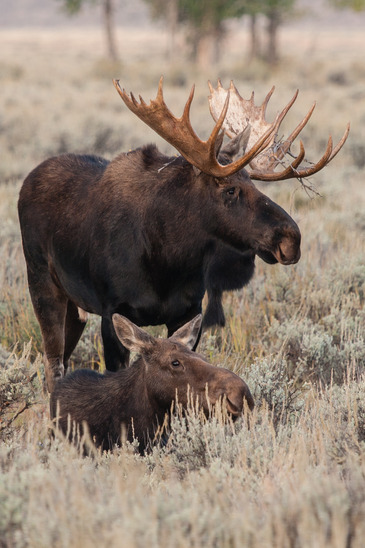 The moose is the largest game animal in the United States, and as management practices have allowed the population to grow, hunting moose has become an increasingly popular challenge.
Whether you want the biggest bull you can find for a trophy or would be just as happy with the meat from a cow to stock your freezer, you need to know where to go to have the best chance of a successful hunt.
Alaska is by far the best state for moose hunting. Second place belongs to Maine, and after that you might look at Idaho and Washington. Moose hunting is expensive wherever you go, costing thousands of dollars and sometimes exceeding $20,000. Permission to hunt moose is usually alloted through a drawing. Applications must be made months in advance, and it may take years before you win a chance to hunt.
Although most people use the services of guides, it is ultimately your responsibility to make sure your paperwork is in order and your hunt is legal. Visit the website of the state in which you will be hunting and read the rules and regulations. You do not want an expensive trip to be made even more costly by fines, and you do not want to have your kill confiscated or yourself arrested because the hunt was illegal.
Alaska
Alaska is, without a doubt, the most appealing choice for the hunter looking for that once-in-a-lifetime trophy moose. The moose in Alaska are of the Alaska-Yukon variety, which is the subspecies with the largest animals. The bulls can reach weights of 1800 pounds and have a spread of 65 inches.
Moose are widely distributed throughout the state. Since much of the land is owned by the state or federal government, most hunting takes place on public lands. Private land is most often under the control of corporations owned by native populations, although there are also some plots owned by individuals near the more populated areas.
If you are using the services of a guide, the guide company will probably have a territory in which it operates and will know that this area is a legal public hunting ground. It is, however, your duty to ensure that your hunt is legal. When you are making plans, it is a good idea to check the maps on the Alaska Department of Fish and Game website to see where your guide will be taking you and confirm that it is permissible for you to hunt there.
If you are not planning to use a guide, there is one more thing to be aware of when you choose a location: Some public lands are only open to residents who live in rural areas. Check with the state authorities, and then check again, to make sure you are hunting in an area where it is legal for you to do so.
Since moose can be found throughout Alaska, the terrain that you will be navigating during your hunt can vary, but it will almost always be rough. During the fall hunting season, the oldest, biggest bulls will be the first to move out of their summer ranges and into the higher elevations. They will be found in heavily forested areas with thick underbrush. You may have to climb hills or slog through the sloppy ground that surrounds the streams and lakes that attract moose.
Moose hunts in Alaska usually require a plane ride to your camp. If you are not hunting in the immediate area of the camp, you will need horses or motorized vehicles available to haul out your kill. A large moose can yield up to 700 pounds of meat, which is not manageable for a person on foot over a long distance.
If you are up for a challenging hunt in a remote, rugged space and are looking for a chance at one of the largest bulls in the United States, Alaska may be the place for you.
Maine
Northern Maine is the best choice for hunters who find that either the cost or the distance of a trip to Alaska puts that option out of reach. Maine has the most dense concentration of moose in the lower 48 states.
The subspecies of moose found in Maine is the Eastern variety. The bulls can top out at weights over 1000 pounds and have a spread from 38 to 50 inches, although trophies with spreads up to 57 inches have been recorded. The success rate of Maine hunters is also encouraging; while the overall rate is about 70 percent, an experienced guide can push that to 95 percent.
Permits to hunt moose are issued by the Maine Department of Inland Fisheries and Wildlife and are valid for specific locations. The most desired area, especially for hunters coming in from out of state for a guided hunt, is the region known as the North Maine Woods. This is land that is privately owned by large lumber and paper industries.
The managed forests of the North Maine Woods offer excellent habitat for moose, which has helped to increase their population. Incidentally, the management practices also offer advantages to hunters. The land is served by logging roads that give hunters easier access to the interior, and cutting practices make the forests more open with greater visibility.
The terrain in the North Woods ranges from rolling hills to lowland swamps. Much of it is covered with hardwood forests, but they are interspersed with stands of softwood and cedar.
Almost all the land in Maine outside the North Maine Woods is also privately owned. Some areas are controlled by Native American tribes, and they have sole authority to regulate hunting activities. If you use a guide service, they should take the lead to make sure you have permission to hunt on private land, but it is ultimately your job to obey the rules.
Idaho
There are several Western states that support moose populations, and Idaho is particularly attractive for hunters. The moose in Idaho are of the Shiras subspecies. They are the smallest variety of moose, with the bulls ranging from 850 to 1100 pounds with spreads that average about 45 inches.
Although moose hunting is popular in Idaho, the animals seem to respond well to hunting pressure here and their numbers remain strong. Moose can be found throughout the state, but the area closest to the Canadian border has the greatest density. Hunting success rates in Idaho approach 100 percent, and many of the animals are true trophy quality.
The moose in Idaho are found in varied terrain. At higher elevations the ground will be more rugged, while the river valleys are more accessible and easier to navigate. Moose even make themselves at home on agricultural and range land. With large swaths of the state available for hunting, and moose that have adapted to almost every habitat, finding the environment that best suits your preferences and abilities is not difficult.
Hunting land in Idaho may be publicly or privately held. It is best to check the maps at the Idaho Department of Fish and Game to see where your permit allows you to hunt, and always make sure you have permission from private landowners to hunt on their land or pass through it. Do not assume that public lands, such as parks and wildlife preserves, allow hunting, as some do and some do not.
Washington
Washington state is another tempting destination for moose hunting. The number of the animals in Washington seems to be increasing at an impressive pace, making it a viable choice now and into the future.
The highest concentration of moose is found in the northeast part of the state. The land available for hunting is a mix of private and public, with some areas controlled by the US Forest Service and some belonging to logging interests or private citizens. The Washington Department of Fish and Wildlife provides maps that show where hunting is allowed and whether permission is required. You must also take care to be aware of state boundaries and not unintentionally stray into Idaho.
The landscape in northeastern Washington is attractive to moose and hunters alike. The smaller Shiras tend to avoid very steep or rocky areas. They prefer the vegetation in the more open patches of forest that have been cleared by logging or burning, which makes the animals easier to spot.
The moose hunting season in Washington may be impacted by snow. This is most often a consideration later in the season. Snow may make some roads impassible, and property owners may close off roads that hunters expected to have available. Having flexibility built into your plans is key.
Have a Successful and Safe Hunt!
The US offers an interesting choice of opportunities to hunt moose. With three subspecies available and terrain that ranges from agricultural land in Idaho to the rugged Alaskan interior, your chances for a successful hunt are high. Matching wits with a moose is a challenge that many hunters only get to experience once, but proper planning will almost guarantee an encounter with one of these massive animals.
Moose Hunting: it's on every dedicated hunter's bucket list no matter how big or small the hunter's preferred game typically is. At some point, deer just won't be enough and you'll want something bigger, something more dangerous, something more exciting. But it doesn't just have to be a dream. This is one item on your bucket list that is achievable. Though it may initially seem out of reach, hunting moose is a popular pastime among big game hunters and it is easily withing your grasp. It's entirely possible to have an affordable, fun, and successful moose hunting trip with a little bit of research, a lot of preparation, and a hefty dose of patience.
Trophy, Meat, Or Experience?
Before you even consider buying gear or booking a flight, you need to figure out what exactly you want from a hunt. Do you just want to experience the thrill of the hunt? Do you want those massive antlers hanging on your wall in a prime spot to spark conversation? Or do you want all of the above, plus the chance to stock your freezer for the next year, or three? If your hunt is a success, you could easily end up with more than 600 pounds of delicious game meat on your hands. What do you plan to do with all that? Shipping it all home, not to mention finding a place to store it, could easily push your budget far over what you initially planned to spend. But you are not required to keep all that meat. It's extremely common for hunters to donate the meat they collect on a moose hunt to local charities, and the meat is definitely welcome. It will still be expensive to ship home those stunning antlers, though. If you're not set on having them placed in a prominent position on your wall and the experience is enough for you, even the antlers can be donated. There are numerous charities that will accept moose antlers, especially those for military dogs. Moose antlers make great chew toys!
DIY Or Guided?
What kind of hunt you want or can afford will depend heavily on your budget. While planning it all yourself may seem the most affordable at the surface, in the end it mostly likely will not be. The costs of scouting equipment, permits, and hunting and camping gear can add up in leaps and bounds before you even get to the airport. Hiring a guide is a greater up front expense, but if you're not going to be hunting moose on a regular basis, this is generally the best way to go, especially for your first hunt. Outfitters have all the gear you will need and any guide worth their salt will know the ins and outs of the hunt. This is their lifestyle; it's how they make their living. Their goal is your success. They want you to make that kill, to feel that thrill so that you keep coming back. There are also trip planning services that can help you design the trip of your dreams. Just know that it might be a little more expensive than it would if you went strictly DIY or guided, but you are guaranteed to get exactly what you want that way if budget isn't a concern.
Where To Hunt
Moose roam all over northern North America. The most popular places to hunt tend to be Alaska in the United States and the Yukon and Northwest Territories in Canada. These moose tend to be the largest and most sought after, thus often the most expensive types of hunt, but there are numerous other places where you can find cheaper hunts that are just as enjoyable.
Alaska: Alaskan moose have some of the biggest antlers in North America. While trophy class bulls are found throughout the state, the largest generally come from Western Alaska.
The Yukon: Moose in the Yukon are rivaled only by moose in Alaska and are considered the largest antlered game in the world. Moose outnumber humans in the Yukon at a rate of two to one.
British Columbia: While BC moose are not considered part of the Alaskan-Yukon subspecies, they are some of the closest rivals and the best choice for hunters looking for a similar, but potentially cheaper hunting ground.
Alberta: Moose hunting in Alberta is improving with each year. It is also easiest to get non-resident tags here, as they are guaranteed if you use an outfitter to set up your trip.
Quebec: Though not high on the largest antler radar, hunting in Quebec can be extremely affordable. There are fewer hunters here and moose densities are high.
Manitoba: Like Quebec, Manitoba is often overlooked, but is a great place to plan a successful hunt with a limited budget.
Going With An Outfitter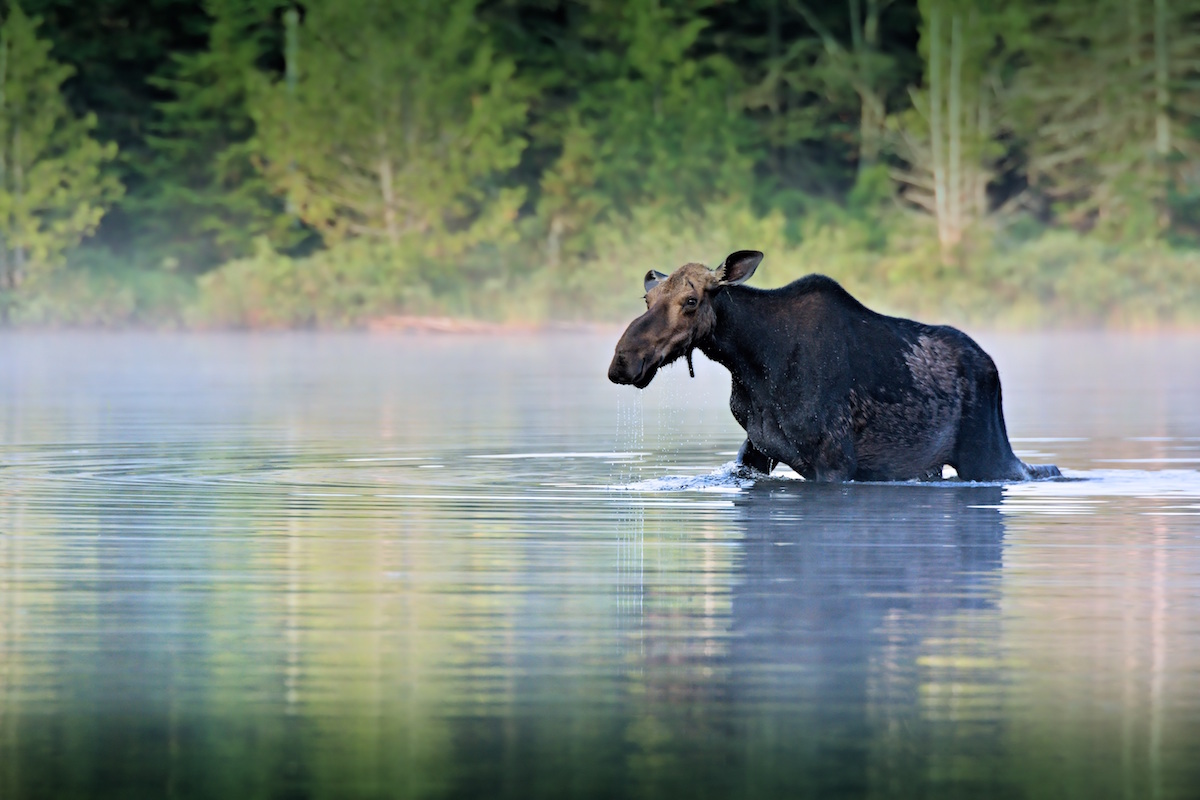 Should you choose to use an outfitter for your first moose hunting trip, the upfront expenses will be greater, but the planning will be easier and you will be able to enjoy the hunt with less stress on the smaller details. A quality outfitter will provide you with the majority of your equipment needs, as well as comfortable accommodations for the duration of your hunt, travel to and from the camp, and heating and cooking supplies. Outfitters also know the best places and times to hunt and have enough knowledge to make sure you are safe and happy with the outcome, no matter your experience level. They will also help you pack and transport your meat and will most likely know the best place to donate should you choose not to keep it. In some cases, even if you want to go fully DIY with your hunt, you can't. Many places require a guide license for big game hunts and going out yourself isn't just risking danger; it's risking a run-in with the law. Make sure you know whether your preferred hunting area is one of these places and follow the rules if it is. Hunting without a license is a risk you do not want to take.
As with everything, do your research before booking with an outfitter or guide. It is easy to Google "Moose Hunt Outfitters", but Google can't tell you if they are a quality outfitter or not. Search for reviews. Find testimonials. Ask your big game hunting friends for recommendations. Visit hunting and outdoor shows and ask around. Find the guide who will meet your unique needs and don't settle on the cheapest or easiest to find just because they are the first you stumbled across. A successful guide match is key for a successful hunt.
What Do You Need From An Outfitter?
Before contacting any outfitters, figure out what exactly you want from them. Are you looking for a more upscale experience with comfortable lodging and motorized transport? Are you okay sleeping in a tent? What about the trip in: Do you want to ride a horse? A quad? Walk? Are you physically in shape for a rough hunt or would you like something a little more relaxed? Be honest with yourself about what will actually work for you. Nothing kills a hunt quicker than underestimating how much physicality will be required and failing to meet your own expectations.
Questions To Ask About An Outfitter
Is the outfitter trustworthy? Do they have any references who can back their claims?
What accommodations will they provide? Do they offer tents? Cabins? What kind of heating and cooking do they supply? Do they provide food for the trip or will you need to bring your own?
How successful are they? How many clients do they take on hunts each year? What is the success rate of their hunts? Have they had any unhappy clients? What were the circumstances and how was it handled?
Will the hunt be private, with just you and a group of friends? Or will you be part of a larger group? How does the outfitter interact with their clients? Will you be treated with a personal touch and guaranteed success, or is the outfitter just looking to run through hunts as quickly as possible?
Where will the hunt take place? Does the guide have private hunting lands? Are you going to be on public land? If you are, does the guide have the proper paperwork?
When speaking to the outfitter directly, don't be afraid to ask any questions or raise any concerns. Ask for references. Ask what kind of problems the hunt might run into and how he typically handles those. Ask what happens on an unsuccessful hunt. These guys are there to work for you. It's your money. It's your hunt. If you feel anything is off, don't be afraid to express your fears or even walk away. Find the right guide/outfitter before you start and your hunt will go much smoother.
Prepare For Your Trip
Now that you've figured out where you want to go and are in talks with an outfitter, you can start to really plan your trip. Book your flights if necessary, as well as any lodging you will need before and after your planned hunt. Collect all your necessary documents, such as passports, hunting licenses, etc. You will want to create two packets. In one, include copies of all of the documents you will need on your hunt in case of an emergency. The other will be your expected itinerary and contact information to be left with someone at home who you trust.
Emergency Packet to be included in your travel gear:
Copy of passport
Copy of driver's license
Copy of hunting license
Copy of health insurance information
Allergy list
Medication list
Medical concerns list
Emergency Contact list
Travel Packet to be left at home in case of emergency:
Detailed travel plans, including name, address, phone number, cell number, DOB, etc
Flight numbers and times
Hotel reservation information
Date of departure
Date of scheduled return
Expected date of departure for hunt
Expected date of return from hunt
Outfitter/guide name, phone number, address, license information, emergency contact information
Expected camp location(s)
Vehicle(s) being used
Firearm(s) being used
Detailed descriptions of equipment and all party members involved
Potential medical concerns
Survival experience
Any other information that may be useful for authorities in an emergency situation
The Travel Packet may seem extensive, but in the case of an emergency, any extra information that can be provided to search and rescue teams could be the difference between returning home safe and sound or not returning home at all.
Buying the Right Gear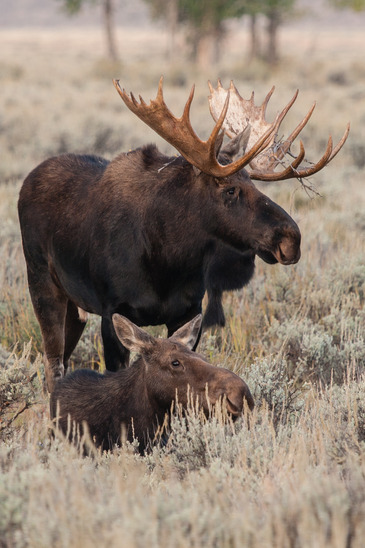 If you're using an outfitter, they should have a list of what personal gear you will need to bring, but it will likely fall along the lines of what is listed here.
Firearms and Ammunition
Check with your guide before purchasing any ammunition. Determine what caliber you will need. You will likely want to go with a heavier bullet, as moose are tough and you need your ammo to be tougher. You are looking for a clean kill and you want to maximize your potential while minimizing the amount of suffering and struggle the animal will incur.
Clothing
Pack smart when it comes to clothing. Layers are good, especially if they are thin and durable. Temperatures on a hunt can range from below freezing up to sweat-inducing heat in a single day, especially if you are out trekking through the wilderness. Buy high quality thermals and layer up. An outer layer of wool is recommended, as wool is often quieter than any available synthetic brands and offers the ability to keep you warm even when it is wet. You will also want hunter orange and quality rainwear. The weather is never guaranteed and snow can change to pouring rain in an instant. Pack extra socks and underwear. Nothing can ruin a hunt quicker than wet feet. Foot powder is a great addition and will help keep your toes clean and dry. Make sure your boots are sturdy and in good condition, but be sure to break in any new footwear before you go on your trip. You don't want to end up limping behind your group with blisters all over your feet because of your new boots. Remember to include thick gloves, a winter hat, and reusable heat packs in your kit.
Moose Calls
Your outfitter should be able to give you an idea of the best moose calls for the area you will be hunting in, but there are various cow and bull calls you can use with great success. The call you choose will depend on what time of the year it is and whether the moose are in rut. Thrashing can also be used pre-rut or during rut to gain the attention of a bull that might be looking to challenge some competition. Thrashing is the act of rubbing a paddle or antler shed against a sapling or other brush. This creates a sound that will imitate a bull rubbing their own antlers against the sapling, and it should signal to any other bulls in the area that competition has arrived. This works best pre-rut or early during rut and should be done in an area with fresh signs of activity.
Other Potential Equipment Needs
Though your outfitter will likely have many of the following on hand, it would behoove you to come prepared, as well. Most of these items can be shared, so if you are going in a group, you can easily split the load between you. Use high quality hiking packs with soft sides. Do not pack your materials into suitcases or hard-sided luggage.
A durable tent (if not provided by the outfitter)
Sleeping bags
Fully stocked first aid kit, including waterproof adhesive bandages, individual iodine packets, A&D ointment, tweezers, nail clippers, latex gloves, adhesive medical tape, pain reliever, hydrogen peroxide, gauze pads, steri-strips, small scissors, an elastic ace wrap, burn ointment
Duct tape
Parachute cord
Fully stocked field dressing kit, including a heavy duty knife, cheese cloth or meat socks, bone saw, ground cloth, and pack board
Towel and wash cloth
Personal Hygeine items, such as toothbrush, toothpaste, etc
Soap
Flashlight
Matches
Spare batteries
Bug Repellent
Camera and spare SD cards to document your trip
Binoculars
Compass or solar powered GPS
Sunscreen
Solar charger
Food Needs
Will your outfitter provide food and a way to cook it? If not, you need to be extra prepared. Don't plan on eating game meat. You may get lucky, but there's no guarantee and you don't want to ruin your trip with ravishing hunger. Plan high calorie meals that take up little space. Always bring more than you think you will need. A snowstorm or other unexpected event could leave you out in the wild longer than you intend to be and you don't want to be caught unprepared.
Portable cooking stove
Fuel
Tree cache and/or bear-proof containers
Cooking pot(s)
Mess kit
Heavy duty water bottles
Water filter
Thermos
Plastic trash bags
Drinking water (if you will be in an area where clean water is not readily available)
Survival Gear
Though the goal is to not ever need survival gear, it is far better to be prepared than to take the risk. A small pack with all the essential survival items will go a long way toward peace of mind and a safe, happy hunt.
Extra food rations
Waterproof, strike-anywhere matches
Small flares
Whistle
Extra set of clothes
Mylar emergency blanket
Iodine Tablets
Extra compass
Before Your Trip
Before you leave for your trip, it is a good idea to pay a visit to your primary care physician. Inform them of your plans and ask them to give you a physical to make sure you are not going to run into any unexpected health complications on your trip. Stock up on any medications you may need, as well as any pain relievers you rely on. There are no pharmacies in the middle of The Yukon. In addition to getting checked out, it would be a good idea to begin a conditioning program approximately six months before your trip if you are not already regularly athletic. Work your way up to carrying a pack that is at least a quarter of your body weight. You will feel better and struggle less when it comes time to do the actual hiking and you will actually be able to enjoy the hunt to its fullest.
When You Arrive At Your Destination
Whether you choose Alaska, The Yukon, or somewhere else, once you arrive at your destination, check in with your outfitter. If you've gone the complete DIY route, check in with whoever you are going on your trip with. Have a list of everything you need and check and recheck that the list is complete and everything is accounted for. Get answers to any questions that may have popped up and address any concerns. This is not the time to get lazy. The better prepared you are before your trip, the more likely you are to come out of it successful and content. Skimping now, with the hunt so close, could lead to disaster. So check, double check, and triple check. And get a good night's sleep.
On The Hunt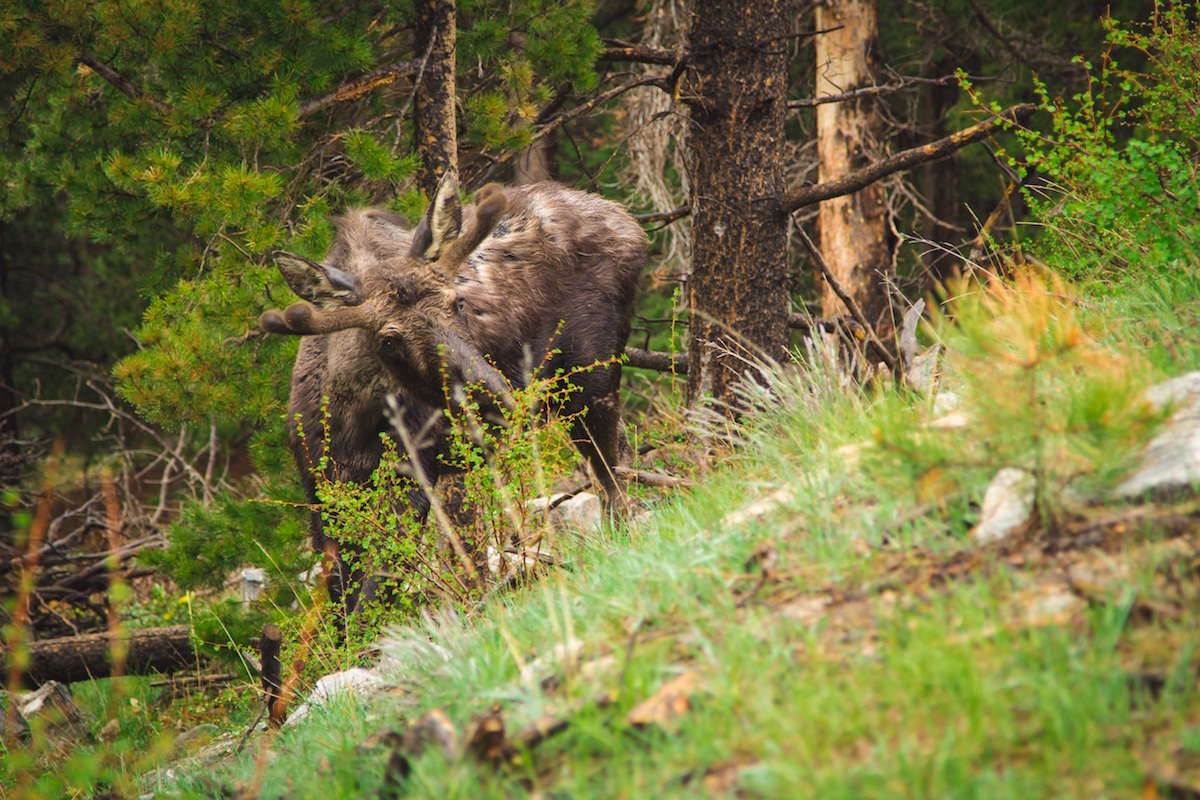 If you are using an outfitter, they should have a place scouted and planned, or at least know where the best places to hunt will be. Follow their lead. Adhere to their instructions. Their job is to keep you safe and to make sure you have the experience you're looking for. They know the land and they've been down that road before. Typically, your guide will try to have you set up by early afternoon, so there is time to get settled in before the sun starts to sink. Once you are set up, it's time to look for fresh signs of activity. These are often found near bodies of water and food resources. If you spot a moose as it is getting dark, wait and return to camp. You do not want to be trying to track an injured moose after nightfall in an area where bears and mountain lions can decide you are easier prey that that 1,000-pound wounded hunk of meat.
Keep your hunting clothing as clean and free of scent as possible. Do not cook in the same clothes you will wear on the hunt. Do not wear cologne or aftershave or scented deodorant. Do not smoke or handle fuel of any sort while wearing your hunting clothing. It is best to keep your hunting gear in a separate bag away from strong scents. Moose have a heightened sense of smell and tend to be smart creatures. They will circle an area they are unsure of until they deem there is no danger. If you smell like burnt bacon, they will make a beeline in the other direction.
When you return to your chosen spot the next morning, set up and wait. Do not start calling or thrashing right away. Settle in and give it a good hour or so before you make any major movements. Watch and listen. Let the surrounding wildlife grow accustom to your presence and return to their natural routine. Moose will take cues from the birds and other animals. If smaller creatures seem agitated, the moose will know and it will be extra wary. Patience and persistence is key. It is better to wait longer and have a cleaner chance than to rush into the hunt and spend the whole day tracking a wounded animal.
Calling Your Prey
Once the natural sounds of your environment return to normal, you can get ready to call to your prey. Know what you are looking for, though, and do not shoot until you are absolutely certain you have found the game you want. Are you looking for a bull? When you use a cow call, in many cases a bull will respond, but not always. Sometimes a cow is just as curious and may come looking to see what all the commotion is. Don't waste your shot, or worse, shoot something you're not allowed to shoot.
Taking The Shot
You've made the call, you've thrashed the brush. And now your prey is on its way. You can hear him crashing through the bushes, looking for that cow he desperately desires. Again, be patient. Take your time and line up your shot. Aim for the broadside shot, just behind the shoulder, about halfway up from the brisket of the moose. This should allow you to hit the lung and shoulder, lung and liver, or lung and heart. All of these will drop the moose quickly. If you rush your shot and shoot too far back, you could wound the animal, but not bring it down. A wounded moose can run for miles in the rugged landscape and you will be stuck tracking it through potentially dangerous wilderness. Many states and provinces have laws that forbid you to leave a harvested animal behind, so failing to track a wounded moose is not an option.
Shots To Avoid
Do not take a headshot, even if it is your only option. A moose's head is large enough to fill a construction-grade wheelbarrow and protects a brain about the size of a navel orange. This is an incredibly small target to hit through a vast amount of bone and flesh. You may wound the animal, but it is highly unlikely you will bring it down and you will cause it needless suffering in the long run while wasting an expensive hunting trip.
Avoid neck shots, as well. The neck of a moose is all sinew and muscle and will generally protect it from any major immediate damage. Shoulder shots are hit or miss on whether you will inflict enough damage in the right areas to drop a moose quickly, and hind quarter shots (the famed shot of shooting up through the hind quarters to pierce the lung or heart) are so dependent on luck that you are more likely to ruin your meat or miss bringing the beast down completely than you are to have a great story to tell when you get home.
Tracking Your Kill
It is highly likely that even if you place your shot perfectly, the moose will have enough adrenaline coursing through its veins to make it a fair distance away from the spot where they were initially hit. If you lose sight of the moose, again, be patient. Make a note of which direction they were heading and scout around for signs of blood or hair. As mentioned before, many places make it illegal to leave a harvested animal, so you must try to find your prey, even if it doesn't look like they were hit. You cannot simply leave them out there to die and find another target.
After you find tracks or a blood trail to follow, wait. Don't pursue immediately. Give yourself a good half hour or so before moving on. If a wounded moose senses they are not being hunted, they will often lay down and try to find cover. However, when you happen upon a moose, make sure it is the same one you initially shot. You do not want to jump the gun and end up with two kills on your hands. You didn't prepare for that and it will cause a much bigger headache than its worth.
When you discover your target and determine that it is indeed the correct moose, approach with caution from either the side or the rear. Do not approach a downed moose head-on. They may be injured, but that doesn't mean they are completely helpless. Moose tend to die with their eyes open. If the animal does not move, attempt to touch the eye with a stick. If they are still alive, finish them quickly and humanely with a shot to the base of the skull or other vital organ.
Field Dressing Your Kill
The very first thing you need to do is attach your registration tag. However, be careful as you move around the animal. It is entirely possible for random nerves and muscles to fire and a sudden jerk of a hoof could lead to a broken leg, crushed rib, or worse. Now is also the best time to take your photos for bragging rights.
Your guide should know the proper way to field dress a moose, but if you are on your own, or just interested in doing it yourself, there are some steps to make it a little easier. It is still going to be a big task, but it's not an impossible one.
Position the moose on its back in a clear area on an incline, with the head up or down.
Bleed the moose by inserting your knife into the shallow cavity at the base of the throat.
Make an incision at the base of the breastbone and cut downward. Do not damage the intestines. Continue down to the anus and up through the windpipe. In certain areas, it is required to leave the genitals intact for identification, so make sure you know your laws before you begin.
When the breastbone is bared, break through it with an axe and sever the windpipe from the head.
Carefully cut through the abdominal muscles, then split the pelvic bone and cut the diaphragm from the cavity wall.
Now you can remove all of the internal organs. Once the task is done, move the discarded organs away from your work area.
Clean and quarter the remainder of the body cavity to allow for rapid cooling.
Transporting Your Kill
With any luck, you haven't had to track your prey very far or your guide has all the tools necessary to make hauling the large carcass back to camp. If not, it is going to be a long, strenuous job to get the meat back to where you need it to be. A l,000-pound moose can easily drop up to 600 pounds of meat. That's a lot to carry. Make sure you have a plan for getting the meat out of the wild and back to civilization before you take your first shot. As mentioned previously, few places will let you leave the carcass behind, and if you are a serious hunter, you don't want to do that anyway. Good preparation will save a lot of time and trouble in the long run.
Donating Or Shipping Your Meat
Even if you were just on the hunt for the experience, you will still need to do something with the animal you brought back to camp with you. Many times you will be able to find someplace to donate the meat to, allowing you to have the thrill of the hunt and help out at the same time. If you want to return home with your goods, though, more planning will be required. If you flew in, you will need to fly out and that could add enormous costs to your already expensive trip. While airline carriers will let you ship meat, twelve 50-pound boxes won't be cheap. And if you are shipping the antlers, you will need to have them packed carefully and treated accordingly.
Plan First, Celebrate Later
Do your research. Know the required rules and regulations for your hunt. Hire the right outfitter. Prepare, prepare, prepare. Your first moose hunt shouldn't be a spur-of-the-moment decision. It requires a lot of detailed preparation and will not be cheap. But that doesn't mean it won't be fun.
The Alaska Department of Fish and Game offers detailed information on how to plan a successful hunt, along with the best places to hunt during which seasons, rules and regulations, shot placement, field dressing your kill, fire awareness, safety information, harvesting reports, travel guides, and common mistakes first-time moose hunters make. They also can send you a printed list of licensed, approved guide should you choose to have your adventure in Alaska. In addition, the ADFG has a handy, detailed PDF to make sure you plan your hunt for the best possible outcome, including emergency information, packing lists, and much more. Combining this detailed resource with the information provided by your guide will ensure a successful hunt and a safe return home after your trip into moose country.
Your first moose hunt should be a big, exciting experience that you can talk about with your friends and family for years to come. Detailed, careful planning will go a long way toward making sure your hunt is safe, successful, and the thrill of a lifetime that will leave you wanting more.