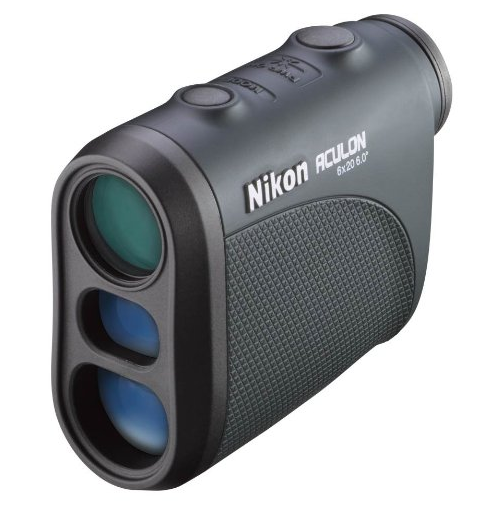 Rangefinders use laser technology to bounce a beam off of a target. The device then measures the amount of time it takes for the laser to bounce off of the target and return to the point of origin. The target range is then displayed, usually on an LCD screen, within 1 second or less.
Modern rangefinders are so accurate, compact and cheap that there is no reason a hunter should be without one. Whether you prefer hunting with a bow or rifle, rangefinders can be an invaluable tool. They can help you quickly survey your surroundings when hunting in a new area.
Rangefinders take out the guesswork. This not only aids you in hitting the target, but helps make sure you get a good, clean shot. The last thing a hunter should want is to end up tracking a wounded animal. A good rangefinder can eliminate unnecessary suffering of your prey. They also help you avoid getting too close to the target and accidentally alerting the prey to your presence.
A good rangefinder makes judging the distances on steep terrain a breeze. Some of the best rangefinders offer features that compensate for steep angles. When aiming from a decline or incline, it can be much more difficult to correctly judge the distance. Once you adjust your sights to match the rangefinder, you will never need to miss a shot again. This can be even more helpful for bow hunters when you need to ascertain the correct angle to fire that arrow from. You'll be happy to lose a lot less of those arrows too. A good rangefinder will even help you to avoid accidentally hitting obstacles such as a tree branch instead of that prize buck.
The more you use a rangefinder, the better your natural ability to judge distances will become. This is an often overlooked benefit of using a rangefinder. Even with the best equipment, at some point, you will have prey unexpectedly wander into your field of view. You may not have time to pull out the rangefinder before getting off your shot. With time, using the precise measurements of a rangefinder will allow you to better judge distances by sight alone.
Most of the modern rangefinders are light and compact. They are very affordable and easy to carry with you on your hunting trips. They can even replace other hunting equipment, such as binoculars. You get the magnification and easier view that binoculars provide, but with the added bonus of seeing the exact distance of your prey. Most rangefinders are nice and rugged. They should hold up to years of abuse on all of your outdoor, hunting adventures. This makes them well worth the money spent.
What To Look For When Buying A Rangefinder
Now that we've established reasons for owning a rangefinder, let's look at things to consider when choosing one to purchase. The first thing to consider is the price and quality. As the old saying goes, "you get what you pay for." Though that is true of rangefinders, there is a point where the benefits of quality may not scale exactly with the price.
The most expensive models will certainly be better than a budget model. There are, however, mid-level rangefinders that represent great quality for the price. For example, a rangefinder in the $400 price range will be much nicer than one that costs $100. One that costs $1000 may not be enough of a leap in quality over the $400 model to justify the difference in price. This all depends on what you have available to spend and what features you prioritize for your specific needs.
Next, you should be aware of the accuracy and maximum range of the rangefinder you are considering. Look for rangefinders that are rated to be +/- 1 yard. Anything more will not be accurate enough for the device's intended purpose. The maximum range should be at least 600 yards, though 800-1000 is ideal. The magnification on top-level models is usually in the 6X to 8X range. Bow rangefinders may have lower magnification and shorter maximum distances for effectiveness.
The next things to be mindful of are the various special features you can find on a rangefinder. Angle compensation features are a must for using a tree stand or hunting anywhere that has steep terrain. Many models have low-light or bright-light image stabilization. This is handy when hunting in areas with variable light conditions or at different times of the day. Some models have varying degrees of water resistance. Some are even completely waterproof. This is obviously useful since the device will be used outdoors for extended periods of time.
Always consider what type of hunting you will be primarily using the rangefinder for. There are all-purpose rangefinders, as well as ones made specifically with bow hunting in mind. Archery rangefinders frequently have a vertical design, as opposed to the horizontal design used for those made more for rifle or shotgun hunting.
More things to think about include the display, size, weight and simplicity of the rangefinder. A good display is vital for being able to read the information quickly. When hunting, every second is important. You want a display that is clear and easy to read. The display must not be too dim to see, nor too bright so that it interferes with the line of sight. Hunting requires a fair amount of equipment. You do not want a rangefinder that is heavy or bulky. It needs to be easy to carry with you alongside of all of your other equipment. Last of all, a good rangefinder should be easy to use. If it is overly complicated, it is likely you will start leaving it at home more than you take it with you.
The Best Budget Rangefinders Under $200
Here are some good choices for purchasing a rangefinder on a budget. All of these models are under $200. They represent great value for the money. The prices are listed in the title of each model for easy reference. Prices are based on the most commonly-listed price, or an approximation of price averages. Many of the models can be found for less during sales or due to overstocking by specific retailers.
Simmons Volt 600 Laser Rangefinder with Tilt Intelligence
This is a great entry-level rangefinder for the hunter on a budget. It is packed full of nice features to help you in the field. The Volt 600 model by Simmons features their patented, Tilt Intelligence. This technology calculates the true horizontal distance when firing from an incline or decline.
The Volt 600 features easy-to-use, one-button operation. It has a crisp LCD screen that is easy on the eyes. It can display the distance in yards or meters. It's accuracy rating is +/- 1 yard. When it comes to accuracy, it is right up there with the top models. The only downside is the short maximum distance it is effective for. It has 4X magnification and is effective up to 600 yards for reflective targets and up to 400 yards for non-reflective targets.
The body of the model is very light and completely waterproof. This is a great feature to have in this price range. The lenses are fully multi-coated. This rangefinder comes with a carrying case and a lanyard. It is backed by a lifetime warranty.
Wildgame Halo Ballistix Z6X Rangefinder
This model features state of the art, Angle Intelligence technology. This is comparable to Simmons' Tilt Intelligence. It gives you an accurate distance measurement while compensating for any type of terrain. It is extremely accurate with a precision rating of +/- 1 yard. The Ballistix Z6X is water resistant and has a great LCD display.
The Z6X features 6X magnification and has an effective range of up to 600 yards. The device uses a CR2 battery, which is unfortunately not included. It comes with a lanyard and a carrying case. It is protected by a 1 year warranty.
One of the best features of this model is its light weight and small size. The dimensions are; 4.1″x3.0″x1.6″. It weighs in at a mere 5.3 oz. You won't even notice this rangefinder in your pocket or gear bag.
Nikon Aculon 8397 Laser Rangefinder
The Nikon Aculon is another compact model measuring a slim 3.6"x2.9"x1.5". It only weighs 4.4 oz. This rangefinder easily fits in the palm of your hand. Its light weight and one-button operation make it easy to use. It is water resistant and completely rain-proof.
One of the model's unique features is the Distant Target Priority Mode. It will give you the distance of the furthest target among a group of targets. This can be very helpful if you are trying to measure a target that is partially obscured by another object.
The rangefinder has 6X magnification and is good up to distances of 550 yards. It features Nikon's multi-layer, coated optics. They minimize the effects of reflection to provide a clearer view. The display is clear and easy to read. This model powers off automatically after 8 seconds of no use.
Great Rangefinders Over $200
These rangefinders are a step up in quality and offer more features. They are also a step up in price. They represent some of the best the industry has to offer, in terms of both quality and overall value.
Upland Optics Perception 1000 Laser Rangefinder
Upland Optics has a brand new rangefinder on the market, and it is definitley a must have. Simple and effective, this device is built to be rugged enough to handle the extreme conditions that hunters often face. With an effective range of 1000 yards, this rangefinder will be dialed in on distances well outside the effective range of most hunters. You will always know exactly how far of a shot you are taking or how much distance you have to cover to get within range. This rangefinder is lightweight and portable, as well has water/fog proof. For the price and quality, you cannot go wrong with this product.
Nikon 16228 ARROW ID 5000
The Arrow ID 5000 has advanced ID technology to find the true shooting distance. The Tru-Target Priority System allows hunters to chose from two modes. The first selects the nearest target in the field, while the second selects the one that is furthest away. Multi-colored optics provide a clear, perfect view. The model is also fully waterproof and fog proof. Bad weather will not be an issue for the Arrow ID 5000 user.
This rangefinder compensates for shooting angles. It can give good readings even with inclines or declines that are as steep as 89 degrees. It has a great display that is easy to see in any light condition. The display is simple and uncluttered. You can get the info that you need with just a glance.
The device gives accurate readings for targets between 5-600 yards. It is good for use with a rifle or bow. It is accurate to within 1 yard and gives readings in measurements of 1/10 of a yard.
Vortex Optics Ranger 1000
The Vortex Ranger 1000 is built like a tank, with a tough rubber coating. Underneath the coating is an even tougher, aluminum casing. It's rugged, but they still managed to make it light and compact. It is fully waterproof due to o-ring seals that block out water, moisture, dust and other debris.
The Ranger features full scan and line of sight modes. It has Horizontal Component Distance(HCD) mode for giving accurate readouts while at an incline or decline. It gives precise readings for targets up to 1000 yards away. It has 6X magnification.
Anti-reflective coatings provide the user with a clear view. Multi-coating provides perfect light transmission. The model is very accurate to within 1/2 of a yard at extreme distances. It runs on a common CR2 battery, which is included along with a strap and case.
Leupold RX-1200i TBR/W with DNA Laser
This rangefinder is amazing for the bow or rifle hunter. The Leupold RX-1200i TBR/W has a great OLED display, is weatherproof for use in the rain and comes in a variety of colors. The size of the rangefinder is 3.8″ x 1.3″ x 2.9″ and it weighs 7.8 oz. It has 6X magnification and is effective out to a distance of 1200 yards. Leupold stands by their products with a comprehensive, 2-year warranty.
This model is extremely accurate and gives precise readings in 1/10 of a yard increments. It features a sturdy, aluminum case with a tough rubber covering. It has bow and rifle modes to display information specific to those weapons.
The rangefinder compensates for angles in rough terrain. It also calculates windage corrections out to 800 yards. Further settings options even allow you to choose from 25 different ballistics groups. The RX-1200i calculates the hold over range and drift parameters of the different bullet calibers to give you even more information before you take that shot.
Nikon 8377 Riflehunter 1000
The Riflehunter 1000 has ocular contrast to adjust to light conditions automatically. This aids the hunter greatly in ease of use. It features Nikon's Tru-Target Mode that gives the user two options. First Target Priority gives a reading for the nearest target in a field of targets. Distant Target Priority mode selects the target that is the furthest away. This helps you to get a good reading on an object when a branch or obstacle it partially in the way.
The model is built with a rugged case that should stand up to years of rough use. It has a no-slip finish to give you a good grip. It is water resistant and can even be used in heavy rain. Nikon's multi-coated optics are excellent for multiple light conditions, humid conditions and for fog. The bright LCD screen adjusts its display automatically for easy viewing in all light conditions.
The Nikon 8377 Riflehunter 1000 has an effective range of 5-1000 yards. It gives readings in 1/10 yard increments and is accurate to within 1/2 yard. It has 6X magnification and a wide field of view to make targeting easy. The rangefinder is compact at 6.9 oz and 2.9″ by 1.6″ by 4.6″ in size. It comes with a battery, neoprene case and an adjustable strap.
Rangefinders For The Bow Hunter
We have taken a look at a number of rangefinders in different price ranges. So far, they have been all-purpose rangefinders or those built with rifle hunting in mind. Here are some great choices if you prefer to hunt with a bow.
Bushnell The Truth Bowhunting Rangefinder
This rangefinder has a special Bow Mode and features Bushnell's Clearshot technology. It calculates the compensated distance of your shot based on the angle from 7-99 yards. It can pinpoint line of sight distances up to 850 yards. It offers 4X magnification and is extremely accurate.
Clearshot technology gives instant feedback on an archer's shot clearance. This is a great feature that can help you avoid clipping branches or other obstructions. With a simple, three-step process, you can even calibrate the rangefinder to match the speed of your bow through the sight system. Once you complete this process, the rangefinder will display a dot to show the highest point your arrow will travel.
The casing has a nice, anti-slip finish. While it isn't fully waterproof, it is water resistant and should hold up in the rain. It comes complete with a battery, neck strap and carrying case.
Bushnell Scout DX 1000 ARC
This rangefinder can be used for rifle hunting, but is also optimized for use with a bow. This versatility makes it a great option for the hunter who likes to use a variety of weapons while on the hunt. It features a hard-rubber armor that makes it rugged and completely waterproof. It is also fog proof to give you the clearest possible view in any weather condition.
The Scout DX 1000 ARC has VSI (Variable Sight-in) modes for rifle or bow. This will calculate the amount of bullet drop you experience over distances. It will also show you the arc of the arrow in bow mode to help your accuracy.
This model is super accurate to within 1/2 a yard. The information displayed is precise to within 1/10 of a yard. It has magnification up to 6X. It's range of effectiveness is within 5-1000 yards. These impressive stats are thanks to the E.S.P. Turbo-processor. E.S.P. stands for Extreme, Speed, Precision. A carrying case, strap and battery are all included.
Nikon 8376 Archer's Choice Max
The Archer's Choice has a measurement range of 5-1000 yards and 6X magnification. It displays distances in 1/10 yards and is accurate to within 1/2 of a yard. It is 2.9″ by 1.6″ by 4.6″ and weighs in at 6.9 oz. It has 18.3-millimeter eye relief and 3.5-millimeter exit pupil.
This is one of the best rangefinders in any price range when it comes to dealing with tough lighting conditions. This is thanks to Nikon's Active Brightness Control Viewfinder. This new technology allows the device to work quickly in any light condition imaginable.
This model has a wide field of view to help you acquire targets quickly. The LCD screen is easy to read in any light condition. It adjusts automatically according to the light level. The optics are multi-coated for better views in low or bright light, as well as in humid and foggy conditions. It also compensates for shooting from inclines or declines up to 89 degrees.
Final Thoughts
With all of the options available, everyone should be able to find a great rangefinder within their price range. Just be sure to keep all of the previously-discussed tips in mind if you consider something outside of the lists above. Even if you see a good deal on a model that offers all of your desired features, it can be helpful to do some research. Before you pull the trigger on that purchase, take the time to read some product reviews online. Ask your fellow hunters what they use and how happy they are with their own rangefinders.
Hunting, like any sport, requires the best equipment to be the most effective you can be. There is an old saying that goes, "the tools don't make the carpenter." I suppose that is true, but they do make the carpenter's job easier. The same is true of the tools that a hunter uses. A good-quality rangefinder will make your life much easier. It will be an invaluable tool for your hunting trips for years to come.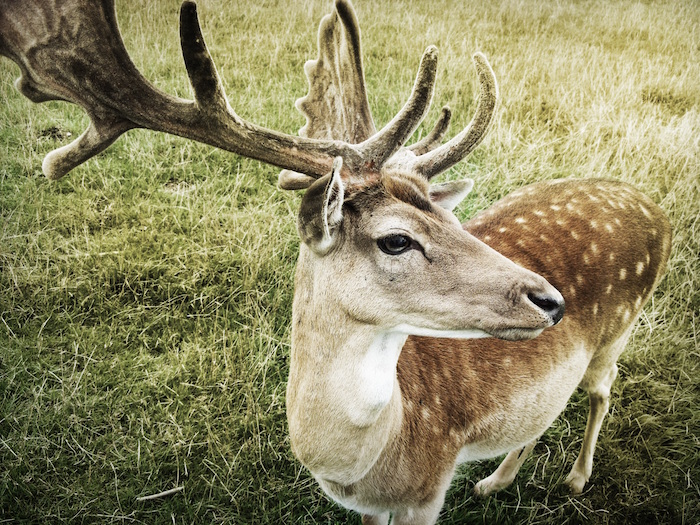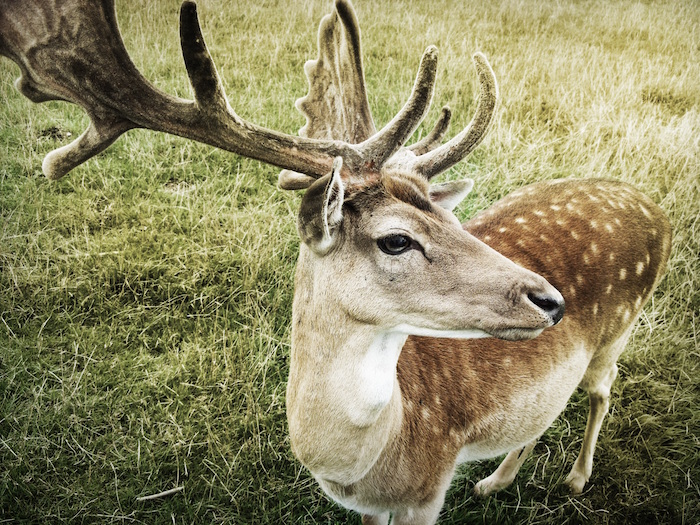 If you're like most people, with a regular job, you may only get a few days to hunt deer every year. Because your time in the field is probably limited, forgetting one simple item can literally ruin your hunt. It is awfully difficult to hunt without a weapon! And even if you just forget something simple like a pair of gloves, or don't pack quite enough food, the amount of enjoyment you get out of hunting will drop significantly. This is where a good deer hunting equipment checklist is invaluable.
While you will need slightly different gear depending on whether you are hunting early or late in the season, using a bow or firearm, staying close to home or traveling across the country or are packing in or hunting close to the road, a good checklist will help you be sure you don't forget anything you might need. It is suggested you go through all your gear at least a few weeks in advance of the season, so you will have plenty of time to secure replacements, if needed.
You can use the table of contents to jump to the section you're most concerned about. Make sure to triple check the last item on the list, it is easy to forget but the consequences of doing so can literally be life changing!
Hunting Weapon(s)
Obviously, your choice of hunting weapon is not likely to be forgotten, but should be thoroughly checked over before the hunt.
Archery
Bow: Check your bow for any signs of wear or damage. Inspect the limbs, the cams and especially the string and replace anything that looks suspect.
Arrows: Aside from the arrows, or bolts, in your quiver, it is wise to have a few extras on hand.
Broadheads: Check fixed-blade broadheads for damage and be sure there is a sharp edge on each one. Inspect mechanical broadheads for any possible factory defects.
Broadhead Sharpener: It only takes one missed shot to dull a broadhead.
Small Game Head: This blunt rubber tip slips over the end of the arrow shaft and is perfect when that grouse perches up in a tree.
Archery Release: Unless you have time to practice every day, an archery release will improve your accuracy 10 fold. The release is designed to hold the bowstring at full draw and fire the bow with the push of a button.
Cocking Rope: If you hunt with a crossbow, a cocking rope is a must as cocking the bow by hand is not only hard on your arms and back, it can damage the bow.
Firearms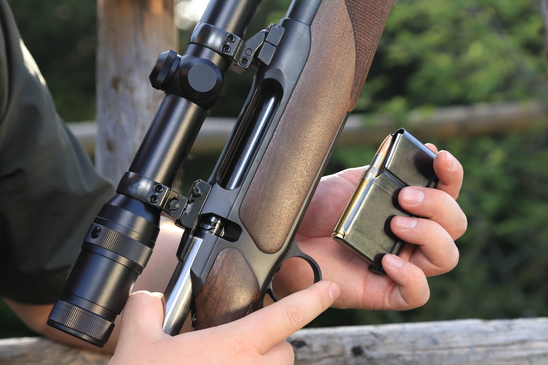 Weapon: Check your rifle, shotgun or handgun thoroughly and inspect the scope, if so equipped, to be sure a lens hasn't mysteriously become cracked or a turret cap has gone missing. It's always worth firing your weapon a few days before the hunt to make sure it has maintained its zero.
Sling: While your rifle or shotgun should be in your hands when stillhunting or tracking, a sling can help shorten the walk to and from the stand, or when dragging out.
Holster: If you use a handgun, be sure the holster is in good shape.
Scope Covers: It has been known to occasionally rain or snow in the deer woods.
Field Cleaning Kit: You never know when something will get stuck in your barrel, and a cleaning rod will work a lot better than a stick.
Hunting Clothing
Clothing needs can vary depending on latitude, altitude and weather. Layering several light pieces of clothing under your jacket will always keep you warmer, and drier, than a couple of heavy garments.
Insulated Parka: It gets cold in the woods, especially when sitting on stand all day.
Jacket: For early in the season when the temps are warmer, or when you plan to be on the move all day.
Windbreaker: Sometimes on even the nicest early-season day the wind can whip up out of nowhere.
Pants: Many hunters never consider a pair of warm and breathable hunting pants will aid in keeping their feet warm by helping to maintain the circulation to their feet.
Sweater: Dressing in layers allows you to add or take clothing off as needed.
Vest: A good hunting vest, with lots of pockets, will help you carry and organize and all your accessories. It will also keep you warm on the walk to the stand while carrying your jacket or parka, so you don't get sweated up.
Thermal Underwear: Long underwear is a must to keep you warm, and to keep you dry it must have good wicking properties, like polypropylene.
Knit Cap: Approximately 10 percent of body heat is lost through your head, so a good knit cap will keep more that your head warm.
Cap with Visor or Brim: A good hat with some type of brim will help keep the sun, rain and the snow out of your eyes. You can wear this hat over your knit cap, if needed.
Facemask: The skin on your face is the most sensitive of anywhere on your body, so cover it up on those bitter cold days. Also, one of the most significant sources of heat loss in mammals is from repository function, and this is why dogs pant when they get hot. You can use the same process in reverse by simply wearing a mask that covers your mouth to prevent some of the heat from leaving your body.
Gloves: Even in mild weather, your hands are typically the fist thing to get cold. Be prepared with a pair of lightweight and a pair heavyweight gloves that are made from some type of wicking material, like polypropylene or wool.
Rain Gear: Having a packable rain jacket and pants or poncho is more than a luxury if you get caught in a downpour.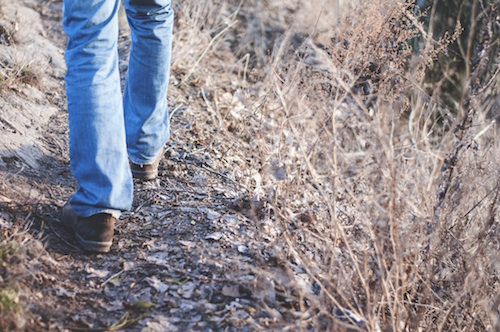 Boots: Your boots are one of the most important things you will wear. If you were boots that don't fit well or aren't broken in, you will be miserable on the hunt. Waterproof boots are a must, as you never know when you will have to ford a stream or river, or have to follow a buck into a swamp. In cold conditions, insulated boots will keep your feet warmer and boots with removable wicking liners work best. Read our guide to buying a great pair of hunting boots.
Extra Boot Liners: With an extra pair of liners you can start each day with dry boots.
Socks: Wear at least two pairs of socks; one lightweight cotton or polypropylene pair under a pair of good heavyweight wool socks will keep your feet warm, dry and help prevent blisters.
Casual Clothing: Unless you want to live in your hunting clothes, pack a sweatshirt and pants along with a jacket for doing camp chores.
Miscellaneous Equipment
Flashlight: Finding your way in or out of the woods, or tracking a deer, in the dark is always easier with light.
Spare Batteries: You never know when the batteries in your flashlight will run out. Always carry a spare pair.
Large Plastic Bags: Use to cover your gear, bow or rifle during an unexpected downpour.
Folding Saw: Use to clear shooting lanes and trimming branches from around your stand.
Small Radio or MP3 Player with Earbuds: Listen to music, talk shows or sporting events to pass the time on stand when the deer aren't moving, or to relax in camp.
Tree Belt: A handy item with hooks to keep things like your rangefinder or binocos handy on the stand.
Personal Items: Lip balm, toilet paper, etc.
Pee Jug: A gallon milk jug or laundry detergent container will keep you from stinking up you hunting area with human scent. Fill it up during the day, pack it out and empty it when you get back to the truck.
Lady J: If you are a lady hunter, this handy little device is contoured to the shape of the pelvis. It slips inside your hunting pants and has a spout that sticks out the fly to allow you to go, into a jug, just like a guy.
Safety and Emergency Equipment
Safety while hunting should always be a priority. While most hunters will spend their entire hunting lives without incident, just one bad break could cut short a lifetime of enjoyment.
Safety Harness: The number one accident hunters experience is falling from a tree stand. Don't be a statistic. Keep your knife handy in case of a fall and if, for some reason, you can get yourself upright.
Cell Phone: Not only is your phone your lifeline in an emergency situation, such as getting hurt so bad you can't even walk or your car battery goes dead, you can call out for pizza if you don't bring home the venison.
Fire Starting: In an emergency being able to start a fire can literally be the difference between life and death. A good butane lighter or waterproof matches with some cotton balls saturated with petroleum jelly will start a fire even in the rain. If you forget the cotton balls, a plastic credit card makes great emergency tinder, and may even help your financial situation in the process.
Survival Blanket: A space blanket can be a lifesaver if you get wet or have to spend the night in the woods.
Luggage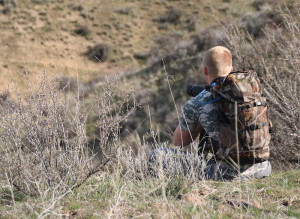 Backpack: Your pack needs to be the proper size for the type of hunting you will be doing. For some hunters, a small day pack may suffice. But if you plan on hauling meat in your pack, then you'll need a much larger, sturdier pack. Check out our guide to hunting backpacks, which includes a section specifically for deer hunting.
Duffel Bags: If you are headed out of town for an extended hunt you will need something to pack all your gear in. As a tip, rolling up your clothes, instead of folding, will allow you to fit much more in a bag.
Bow or Gun Case: These will protect your most expensive piece of hunting equipment in transit, and are a necessity if traveling by plane. Just be sure your case is FAA approved if you plan to fly commercially.
Toiletry Kit: A week in the woods will require a bit of hygiene, so you don't spook the deer or your hunting buddies.
Hunting Accessories
Hunting Seat: Better than getting a wet and sore butt.
Handmuff with Warmers: Can be worn around your waist and keeps your shooting finger(s) warm and ready.
20+ Ft. Paracord: Used to raise and lower your gear from your tree stand.
Pack: A roomy waist or daypack to carry all your gear and extra clothing.
Deer Scent: Doe in estrus, for attracting the big guy during the rut, or a fox or skunk urine as a cover sent.
Scent Pads and Hanger: Hang scent pads from a tree or tie to drag behind your boots. If you don't want to buy or carry a hanger you can just tie the pads to a tree branch with string or fishing line.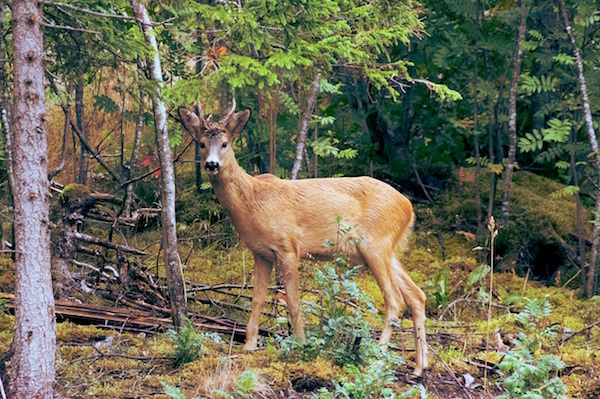 Scent-Killer Spray: Nothing stinks like human scents to a deer, particularly the smell of soaps, lotion, tobacco and other associated odors. Hunters support a gargantuan camouflage industry because humans are visually oriented. However, a deer's nose it its primary defense. Spray scent killer on your boots and all your gear to kill human scent, both before and after heavy activities that cause perspiration. Spray some on a washcloth to use on the back of your neck, underarms and groin areas. Just as camo won't make you completely invisible, scent killer won't totally eliminate all human scent, but it will reduce it enough to keep from spooking the deer.
Baking Soda and Water: Carry a small bottle of baking soda dissolved in water to treat areas of your face where you may not want to use scent killer.
Deer Calls: You don't have to carry enough grunt tubes to build a pipe organ, but every hunter should have one as a grunt can both call a buck in and stop him in his tracks for a standing shot. A doe bleating call can produce similar results. There are also some good all-in-one calls that can cut down on the number of calls you have to carry. A good pair of ratting antlers can make a cagey old buck come in to see who is fighting on his turf. If you don't have access to a pair of real antlers for rattling, there are commercially-produced synthetic antlers, and bags with rods, that simulate a buck fight. Calls will work on all species of North-American deer, but are most effective on whitetails during the rut.
Tree Stand or Ground Blind: A tree stand will get you up and out of the deer's line of sight and help you avoid his sense of smell. A ground blind is the next best option, if your not one for climbing trees. There are some great lightweight camouflage blinds that set up in a snap and will completely conceal you from your quarry.
Decoys: A doe decoy can make deer feel safer, increase their curiosity enough to get them to come take a look, or entice a buck to come in to breed the doe. A buck decoy can get a real buck to recklessly charge in for a fight.
Optics
Binoculars: Next to your gun or bow, a good pair of binos can be your most important piece of hunting equipment. Not only can it help you spot a deer at a distance, a pair of binoculars can help you evaluate the animal, determining if it is a buck or a doe, a "legal" buck in areas where there are antler-point restrictions, or a record-book rack if you are trophy hunting. A quality pair of binoculars can also help you tell the difference between an antler tine and a tree branch or a rock and the eye of a deer in thick cover.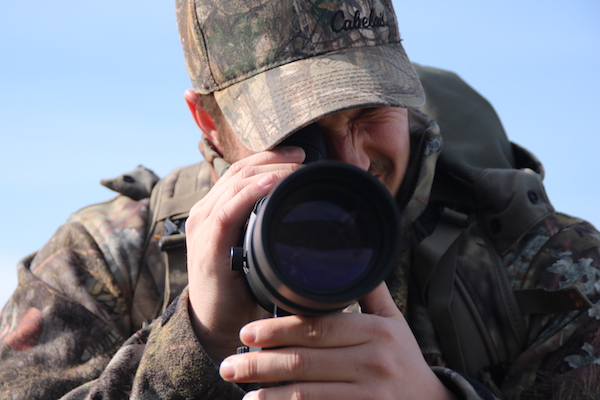 Spotting Scope: Almost a necessity when hunting the wide-open spaces of the west, a good 50X plus power spotting scope can help locate animals that you may otherwise never knew were there.
Range Finder: What may hunters think of as a luxury item can mean the difference between a missed shot and a filled tag. Range finders are made for both archery and firearm hunters, with the former indicating ranges up to 80 yards and the latter up to 1,000 yards. Without a rangefinder you may pass up a shot at an opportunity that you think is out of your effective shooting range, when it is closer than you think.
Navigation
Unless you are intimately familiar with your hunting area, always have some way of finding your way out of the woods.
Compass: Not only can a compass help you get back to your vehicle, it can also help you locate your deer after the shot. Often that bush, rock or tree you could so easily identify from your lofty perch is not so clear once your are out of the tree. Take a compass reading on the last spot you saw the deer running before you climb down and once safely on the ground line the compass reading up with the base of the tree and start walking.
GPS: Many of the new Global Positioning Satellite devices designed for hunters are as small as a cellphone and are capable of storing enough data to make Hansel and Gretel envious. As long as you don't loose it in the river, you will never be lost.
Food
Whether you are just out for the day or are headed to camp for a month, you need to fuel your furnace.
Water: The most crucial of all consumables when exerting yourself physically, running out of water on the hunt can literally be deadly. If you find yourself eight miles away from your truck/camp without water, and it is 80 degrees out, you're in trouble. Use bottles or a hydration bladder, depending your preference, and pack more than you think you'll need if you plan on doing a lot of hiking.
Lunch: Sandwiches are always ready when you are, or, if you have a way of heating water, a cup of instant soup or chili at midday can really lift your spirits. Balanced nutrition is key to sustain the physical exertion from hunting, make sure you are getting a good balance of protein, carbs, and fats.
Snacks: Fruit, energy bars, jerky, or nuts will keep your stomach from growing between meals. Trail mix is of course the classic hunting snack.
Thermos: A vacuum bottle of coffee, hot chocolate, tea or soup will keep you warm and cheery all day, and will mean not having to heat water for that soup at midday. Thermoses come in sizes from a pint to two quarts, so you can carry as much as you want or as little as you need. As a tip, stick to decaffeinated beverages as much as possible, so you won't have to tinkle as often.
Menus: If you are going on an extended outing, you will need to plan out a menu for each day you will be gone. Unless you are camping next to an all-night diner, breakfasts, lunches, dinners and snack must all be accounted for. Take your time and sit down and think about what you want to eat for the duration of your trip. Just be sure to have enough fat and carbohydrates to give your body the energy it needs to trek through the woods all day. Canned, dehydrated and powder foods, like pasta, rice, spaghetti sauce and powder milk, will keep the best.
Ice Chest: Great for packing all your food, and if you camp by a creek you can use the unending supply of cold water, or ice of its cold enough, to keep your vittles chilled.
Utensils: Knives, forks, spoons, mugs, dishes, pots and pans, a dish tub and dish towels, so you don't have to eat with your fingers.
Camping Equipment
Tent: If you are camping by yourself a small one or two-person tent is sufficient. For larger groups, a wall tent will keep everyone comfy and even give you space to cook your meals.
Sleeping bag(s): Be sure your bag is rated for at least 10 degrees colder than the lowest temperature you expect on the trip.
Sleeping Pads or Air Mattress: As the saying goes, an inch of insulation on the bottom is worth six inches on top. Closed-cell foam pads are thin, lightweight and great for insulating, but aren't the softest for sleeping on. However, these work best when packing in away from the road, such as in the wilderness areas of the west. When space and weight is at an issue, an air mattress hard to beat.
Camp Stove and Fuel: A simple two-burner camp stove can cook your meals and double as a heater for your tent. A large bulk propane tank with a regulator hose will be more economical that buying small disposable bottles of propane at the discount mart.
Packing Out
Depending on where you are hunting, and the law, you may only need a knife and a rope to drag out your deer, or you may need to butcher it down to the bone on the spot.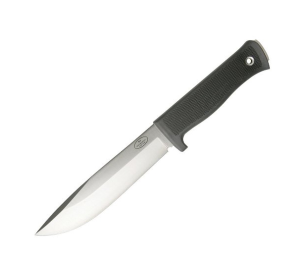 Hunting Knife: A good fixed blade or folding knife to dress your deer. A high-quality folding knife can have some advantages over a fixed blade, often having two or three blades for different jobs, such as a standard blade, a gut hook and a saw blade. However, a fixed blade knife will be able to handle much more punishment.
Rubber Gloves: Will keep your hands clean of blood, and protect you from any diseases the deer may be carrying, during field dressing.
Plastic Bag: Large enough to hold the liver, heart and kidneys, if you save the organs.
Bone Saw: If you need to quarter your deer in the field.
Six-Foot Drag Rope: Better than having to pull the deer all the way back to your truck by its antlers.
Small Bock and Tackle: A couple of small double pulleys and 30 feet of paracord will allow you to get your deer up and off the ground all by your lonesome.
Orange Surveyor's Tape: Use to mark a lost blood trail or the way back to your deer, should you have to leave it in the woods overnight.
Deer Tag: You know why you need it, just be sure you don't forget it, or the game warden won't be your biggest fan.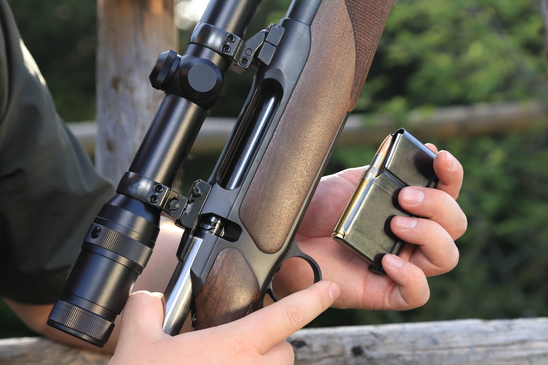 Hunting to bring home the "bacon" can be traced all the way back to the Stone Age. It's not just about eating, but many traditions have steamed from this time-honored sport of finding and killing the biggest and best animals to stock the freezer. In the world of hunting, there are two weapons that are commonly used; the bow and the rifle. The avid hunter has their own preference when it comes to hunting, but there is no right or wrong answer. There are pros and cons to each method, and cost and time are always a factor. The dual between the bow and rifle is an age old battle that doesn't seem to have any resolution in sight.
Rifles Provide Deadly Accuracy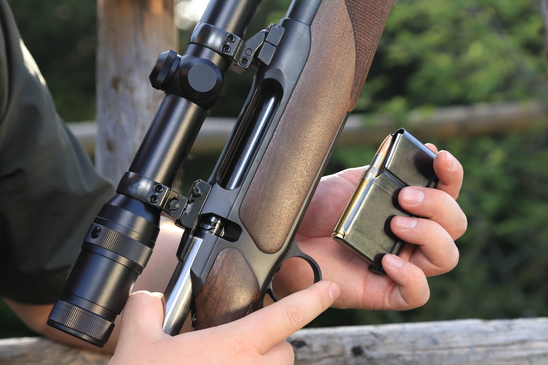 When first branching into the hunting scene, many people automatically take a rifle as their weapon of choice. Since guns have been used for more than two centuries, rifles are so omnipresent that most people don't realize what their other options are. A rifle is mechanical in nature, and because of this, they are better than bows in many respects. A rifle is very easy to use, and the ammunition is transportable. They can target animals at a much greater distance, and the long range options give a better chance at a sure kill.
Learning how to shoot a gun is relatively simple. It only takes a few practice shots to acquire a talent for hitting the target with ease. Those who don't have a great deal of time love the simple nature of a gun. Bow hunters must be stealthy and crafty; something the rifle hunter doesn't have to worry about. Another big advantage is that the rifle user can shoot his target from several hundred yards away while the bow hunter has to be within 40 yards to get a clear shot.
The rifle is much more accessible. It has been the weapon of choice for so long, and there are many traditions build around this method of hunting. Some families believe that when a boy hits thirteen that it's time for him to have his own rifle. Some pass down their rifles through the generations as tradition. Guns definitely increase in value so they an asset to have. They are considered family heirlooms and a precious piece of the past.
Breaking Down the Costs Between Bows and Rifles
Rifles have been considered the superior hunting method, but there is a large market for bows too. One of the negative aspects of bow hunting is the initial expenses involved. Those who want to try their hand at hunting might not want to pay so much up front; especially if they are not sure if it is a sport they will like. A modern bow and equipment setup will cost anywhere from $1-$2 thousand dollars. The cost of bows is significantly more than ammunition for a gun too. Once an archer shoots a few arrows, it's clear that they are easily lost in the woods.
For around $1,000, a hunter can get a rifle with tons of accessories. The costs can be shocking for the bow alone, add in all the gear and it's the price of a beater used car. A good archer will have cameo gear, clothes that are scentless, and other gadgets to get them in close proximity to the animal. The only expenditure isn't money; time is something that must be considered too. They must learn how to use the bow and have deadly accuracy, which takes much time and a great deal of effort.
The Art of Bow Hunting
Bow hunters must be more skilled to get their animal and that skill isn't something they are going to develop overnight. Rifle hunters don't need to be as careful in the woods, their gun does most of the work for them. It seems that nearly every hunter starts with a rifle first and then switches to a bow at a later point. They like the thrill of being able to hunt at different times and using diverse methods. It can take years to become proficient with a bow, and some hunters don't have the time of patience for that. However, once they conquer the art of bow hunting, it's a feat that brings bragging rights.
Why Bow Hunting Is Such A Challenge?
Just because it's a little difficult, costly, and time-consuming doesn't mean there isn't a big market for bow hunting. It is estimated that more than 75 percent of those who use a bow to hunt also use a gun. A shotgun can reach a further distance, but they don't need to hide and blend in with their surroundings so much. The bow hunter must try to be incognito to get the prize catch. They must also get to know the animal and their behaviors. It requires getting into the animals' head and trying to figure out their next move.
A rifle hunter doesn't have to put so much work into their game; they just point and shoot. They don't require the tip-toeing through the woods that the bow hunter requires. Still, most say that it really just comes down to preference. Both types of weapons get the job done, it's just what the person prefers, what their forefathers preferred, and what their budget and time schedule dictates.
Why The Bow Hunting Craze?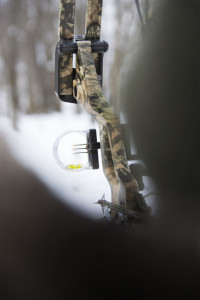 The U.S. Fish & Wildlife Service estimates that there are 13 million hunters each year in the US. Of those people, 33 percent of those people choose to hunt with a bow. The popularity of the bow has drastically increased, and it has quickly become the object that everyone needs for their hunting collection. A well-rounded hunter can use either a bow or a rifle to hunt. The bow has really gained in popularity over the past couple decades and many view it as a newfangled way to peruse the hunting game; however, bow hunting is the original method. At least 67 percent of hunters use a rifle regularly, but most will, at least, try to bow hunt at least once in their lives.
Many say that bow hunting feels like a natural way to hunt. It reminds some hunters of how the old-timers used to hunt before there were expensive guns and rifles. Cavemen didn't have such elaborate toys, they had to make things like bows and arrows to kill their prey. They had to really know what they were doing because they wouldn't eat if they didn't come home with a catch. They didn't have the scented clothes and all the extra gadgets that are available now; they had to use their own ingenuity to catch their food. Rather than looking through a telescope at a deer 200 yards away, a bow allows you to get up close and personal with the animal. Some say it is how hunting should be done. Bow hunting gives an adrenaline rush that using the rifle doesn't offer.
Bow Hunters Have An Advantage On Allowable Hunting Times
One of the reasons why many hunters are picking up a bow is because of the generous seasonal times. Most states allow more hunting time and limits for bow hunters. In the state of Minnesota, those who hunt with a bow will get to hunt for several months. However, when it comes to hunting with a gun; hunters only get two weekends. Some say they will use the bow during bow hunting season and their rifle when it is in season, which allows them to have the best of both worlds. Bow season usually gets an earlier start than gun season. Bow hunters have another advantage too. When gun season starts, many animals go into hiding. The guns cause quite a stir in the woods and the animals will stay out of sight. The bow hunter isn't making a great deal of noise and the animals are more likely to wonder about the woods freely. Some of the biggest bucks ever shot were done by an angler.
Bowhunter-ed.com took a survey of hunters and their love for bows. When asking why the hunters preferred to use a bow to hunt, they responded that it was because they got to hunt first and longer than rifle hunters. Whether intentional or not, it seems that bow season occurs at a time when there is more plentiful game. Muzzleloader and rifle season usually don't have the same luxury of time.
Bow Hunting Strengthens Various Skills
One aspect of bow hunting that cannot be avoided is the fact that it provides great exercise. The majority of hunters are men and nothing is better for building those biceps than pulling back on a bow. Guns require no effort to shoot. Though they may kick a little, they are not going to help build strong muscles anytime soon. The bow, on the other hand, will do just that. Depending on the draw weight, it can really develop chiseled arms. The bow also has the ability to work on target-directed motor skills. That's why 58 percent of hunters polled said they liked the workout that using a bow provided and the challenge really fed into their male drive.
Speed and Range Means Everything To A Hunter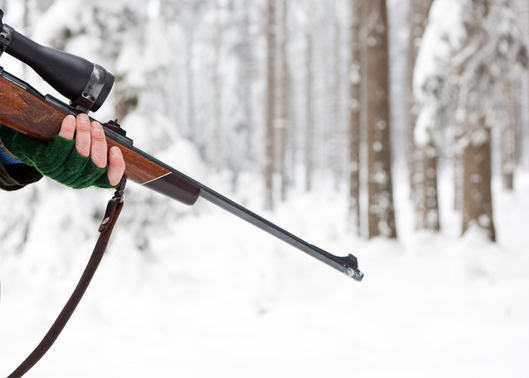 A long range rifle can shoot effectively up to 1,000 yards away, but the modern bow can only kill an animal from up to 40 yards. A bullet's speed can be greater than 3,000 feet per second, while the arrow tops out below 400. The bow is meant to be a short-range hunting tool. The ideal distance for a bow hunter is around 30-40 feet; the closer the better. Hunters lose their composure the further distance they have to shoot. So it provides for a greater victory, and sense of accomplishment, when getting an animal with a bow.
Tip Toe through the Woods- The Quiet Nature of a Bow
Everybody knows that one of the most important aspects of hunting is being quiet. Unless the animals are really tame, any slight noise is going to send them running for cover. True, a gun doesn't require the hunter to get super close for a shot, on the other hand, the bow does. One thing to consider is that a stealth mission requires real skill. Even with one of the best silencers on the market, the rifle is still going to be loud. The muzzle flash is what gives most hunters away. Animals within that general area are going to run for cover.
The bow is whisper quiet. The only thing that is heard is the twang caused from an arrow loosening from the bow. The bow hunter is in camouflaged clothing and blending in with nature, so once again the animals aren't alarmed. The swift silence of the bow isn't going to disrupt the woods like the load echoing gunfire will.
Human Skills against Animal Instinct
Some hunters feel that for hunting to be a real sport the animal has to have an even playing field. In rifle hunting, the animal doesn't stand a chance. The animals' chance of survival is pretty limited due to the distance a gun can shoot and its deadly precision. An animal has a better chance of survival when a bow is used to hunt. This means the hunter must have skills, and it becomes human skills against animal instinct. A gun takes away the animals skill set and does nothing to enhance the hunters.
Take for instance a deer that is standing one hundred and fifty yards away. A rifle equipped with a scope won't give the animal a chance to escape; they are as good as gone. If a bow was used, the hunt would be much different for the animal. The hunter must have better skills and some say it's the only fair way to hunt.
Is Bow Hunting Unfair To The Animal?
Many studies have been done to see how quick an animal dies when shot with an arrow, as opposed to being shot with a bullet. What they found is that a gunshot almost always kills instantly, no matter where on the body the shot occurs. However, when it comes to the bow, the animals may need to be shot up to 14 times before its dies. In between those shots is pure misery for the animal.
A recent study done by Montana Department of Fish, Wildlife and Parks found that 54 percent of animals struck with a bow were left wounded and had crippling injuries, but they never died. Sure, there are plenty of animals brought out of the woods and tagged, but for everyone one that was caught there are many who ran off wounded and will die hours, days, or even weeks later. This leaves the animal defenseless against further attacks by other natural predators. A shot with a bow doesn't ensure that the animals will die, and that doesn't always set right with animal activists.
Some hunters are against a bow and arrow method of hunting because some say it is borderline impossible to kill an animal at such a short range. Even Olympic class archers can only hit the bull's-eye when the target isn't moving and there is no foliage between them. It's hard to hunt with a bow.
A group called Fins and Feathers did a study of 2,370 hunters who were seeking elk. The hunters' reported that 1,161 were hit with their arrows, but only 49 percent of those animals were retrieved. That means that more than 50 percent of these animals laid in agony before dying. Their prolonged death was for naught, as the hunter didn't benefit with the meat and the animal died anyway. Even if the animals were able to wander off, they are likely to have an infection or peritonitis set in a week later.
Rifle Hunting vs. Bow Hunting: Which is Better?
The rifle is by all accounts the superior weapon, but it doesn't give the hunter the same experience. They don't have the same feelings, and it's not the same hunting with a rifle as it is a bow. The weapons are each different and which one a person prefers is based on many factors. Some look to tradition for their current methods, while others look to convenience. There are those that are out for the pure thrill of it all.
Getting so close to a deer that you can nearly taste the deer steaks is right where some hunters want to be, and a bow is a weapon that will put you in the center of the action. When it comes to the preference, it has a lot to do with how much time a hunter wants to put into their game. New bows have increased the distance that an angler can get from the animal and also the precision of the shot. It's worthwhile for a hunter to know how to use both types of common hunting methods and to perfect each art. Guns and bows both have their place.