For hunters, there is no season quite like bear season. The thrill of grabbing your bow and setting off into the luscious habitats that the American bear calls home is an exciting rush matched only by the feeling of successfully tracking down this very capable prey and managing to pull off that one perfect shot.
Of course, many seasoned hunters know that bear hunting is actually a story of two hunts. There's the hunt for the bear itself and the hunt for that perfect location to hunt in.
While there is no shortage of incredible hunting opportunities in America, the fact of it is that certain states are more capable of supporting a strong bear population than others. However, in an attempt to draw as many hunters as possible, these days it seems that every state's hunting board is trying to spread the word that they are the very best spot for bear hunters looking to get the most out of their hunting season.
But what makes a great bear hunting spot? Large bear populations? Ease of access? Incredible regions? The size of the average bear?
Well, the truth is that the very best states for bear hunting usually possess a combination of – if not all of – these aspects. Their reputation for being the very best bear hunting spots doesn't come from a brochure, it comes from experienced hunters who return to them year after year and it comes from the records they set that reveal where the true bear hunting really is.
So while America may be blessed with a number of states that provide ample hunting options, these states truly represent the best of the best.
Arizona
For years, hunters have come to recognize Arizona as one of the nation's greatest spots for black bear hunting. One of the biggest contributing factors to the amount of bears in the state is the region's optimal feeding conditions that not only allow bears to feast all year long, but provides them with a variety of food types that ensure that Arizona bears routinely rank as some of the largest in the nation.
However, a staple of all Arizona bear diets is most certainly the prized prickly pear cactus. This cactus is growing in popularity among chefs who have come to recognize its uniquely sweet qualities, but bears have long been attracted to the cactus and will often not venture far from large patches of it.
While these cacti only grow in the fall, it is no exaggeration to say that bears will travel miles in order to get their fill of them. As such, should you be a fall bear hunter, it is advisable that you stake a claim at one of the many publically available arid bear hunting spots near the foot of the mountains where this cactus grows.
If you're not typically a desert hunter, be sure to take into account the extreme heat you will face during the cactus' grow season as well as the low-cover terrain that makes regional camouflage all the more important.
Even outside of the growth season of the prickly pear cactus, Arizona still offers some of the largest bears and greatest public hunting spots. One of the most popular destinations has long been the San Carlos Indian Reservation, which happily accepts licensed hunters so long as the proper arrangements are made prior to your trip.
As far as size and availability go, Arizona remains one of the premiere destinations for bear hunters. Should you be so lucky to go during the prized cactus season, then you'll find this may just be the very best state for bear hunting in America.
Pennsylvania
If you're scoffing right now at the thought of Pennsylvania even being in the conversation of best bear hunting states, I can't say that I blame you. Not only is the region itself not often associated with large pear populations, but the state's strict regulations on baiting and hounds means that only a very specific type of hunt is permitted here.
There are two very notable catches to these limitations, however. The first is the optimal landscape of the Pennsylvania region itself. The dense woods and comfortable weather of this state during bear season make it an immediately appealing destination for any hunter that believes that in the joy of outdoors as strongly as they do the thrill of the hunt.
However, the main reason that you want to consider Pennsylvania as a bear hunting destination is because of the size of the bears. It's no simple coincidence that many of the largest hunted bears on record come from Pennsylvania. It may not be the most prolific region for bears, but the bears you will find there are simply shocking. If you're looking to hunt big prey, it is the place to be.
So far as location goes, the north-central and northeast regions of Pennsylvania are going to be your best bet for large populations. Just be aware that there is a lot of private land in these areas, though the region does have a reputation for being pretty friendly to requesting bear hunters.
It may not be as generally prolific as other states, but there is truly nowhere else in the country that offers what Pennsylvania can provide when it comes to size.
Alaska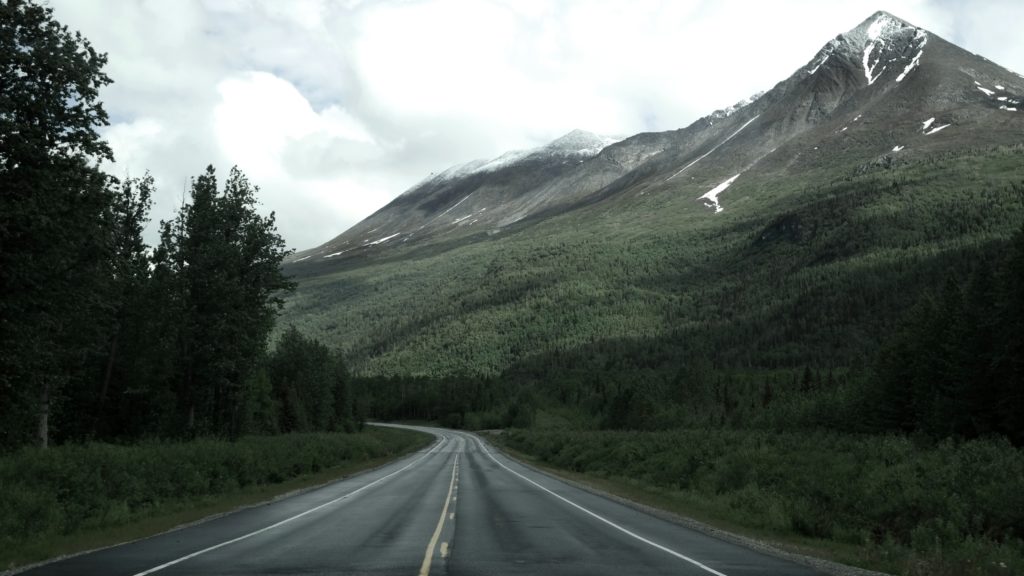 There's a reason that seasoned hunters usually add the phrase "lower 48" when talking about the best bear hunting spots, and that reason is the high quality of bear hunting you can only find in Alaska.
The vast wilderness of Alaska is uniquely qualified to play hosts to large amounts of wild bears. A relatively scattered population of residents reduces the instances of accidental kills throughout the year while the abundant amount of food, long feeding seasons and overall superior genetic lineage among the species mean that the bears achieve a size worth going out of your way for.
However, Alaska's biggest calling may just be how much of the region is publicly available for hunters. You could throw a dart at a map of Alaska and the odds are good that you'll hit a prime bear hunting spot in the process.
Even though Alaska's incredibly dense bear population makes it a naturally incredible location for hunting, like anywhere else there are still certain spots that manage to stand out. This is especially true of the Prince of Wales Island area, which may just be the single best area for bear hunting in the country. Not only is the bear population incredibly dense here, but the island's diverse landscape provides ample opportunity to mix up your hunting style.
You're going to want to rent a vehicle on the island to get the most out of it, but the extra investment will pay itself off many times over in terms of availability.
Alaska is sacred grounds for bear hunters everywhere and one trip to this state will quickly show you just why that is the case.
Wisconsin
Much like Pennsylvania, prospective Wisconsin bear hunters need to be aware of a couple of barriers that come with hunting in the state.
Most notably, it is not necessarily easy to acquire a license to hunt bear in Wisconsin. Though recent reports suggest that acquiring a Wisconsin hunting license is not nearly as difficult as it once was when waiting periods for the most popular areas would stretch into the years, there are still select locations in the state that will require some patience. This is especially true of the state's northern region and its luscious forest areas.
The trade-off here is that Wisconsin's stringent licensing laws and naturally high bear populations mean that the state is ripe with high-quality bear populations. In fact, so far as density goes in a few specific areas, there aren't many states that can even compete.
Even better, Wisconsin has eased up on its Class B license requirements, which means that non-residents will have an easier time suing hounds and baiting.
So is Wisconsin still one of the best states for hunting even outside of that elusive northern region? By and large, the answer is yes, but you do need to be aware of what counties offer the right opportunities. Bayfield, Price and Sawyer are routinely cited as some of the best, though a little research prior to your trip regarding what counties have been seeing the most recent activity will go a long way.
California
It should come as no surprise that the state with a black bear on the flag happens to offer as many – or more – opportunities for quality bear hunting as any other state, but in case you need reminding, it is a truly incredible state for hunters.
California's dense bear population, relatively generous licensing numbers and easily navigated terrain make it an especially popular destination for do-it-yourself hunters that are not interested in acquiring the services of a guide. A simple search of the many available public hunting spots will quickly reveal a daunting number of high-quality options.
However, if you're looking for a general guide on where to go, the best place to start is the northwest. This region's generous grow conditions provide ample good and habitat for the bear population, and specific spots in the Northwest are notable for producing especially large bears. Although, it is worth noting that an especially large California bear is usually the exception that proves the rule.
Outside of that region, the famed Sierra Mountains near the Nevada border are renowned for containing large bear populations and plenty of generous hunting spots. Outside of the mountains, Klamath National Forest is an annual source of some fairly impressive numbers.
Colorado
Right off the bat, it must be said that Colorado is currently only available for fall hunting. There is a strong lobby group trying to change this but, for the moment, you're not going to even be able to consider Colorado as a spring hunting destination.
Of course, the reason that there is a large group of hunters trying to change the Colorado laws is because it so happens to be an incredible source for large black bears. Colorado's stunning mountain ranges and surrounding forest regions play host to a variety of nut-bearing trees that pack the bear population in and keep them well-fed.
These conditions turn Colorado into an incredibly popular area for big bear hunters. Coupled with the fact that hunting is only available in the fall, it's quite easy to find large bears feasting for the winter.
Colorado isn't nearly as accessible as Alaska and California as far as publicly available hunting spots that require relatively little licensing goes, though, so be sure to apply for tags before hunting here, as well as research the many private areas that surround some of the best locations.
Idaho
Idaho's status as a prime bear hunting state has a lot to do with its hunter friendly policies. Not only can you acquire multiple tags here, but it is one of the few states that still allows for baiting and hound hunting with few restrictions. Even better, Idaho features a longer hunting season than most and some incredibly cheap licensing fees.
What's the catch? Well, there really isn't much of one. To be sure, Idaho is not renowned for its bear sizes. However, the fact that the region's wooded areas prove to be a suitable host for sizeable, healthy populations of bears combined with the state's hunter friendly policies means that the wealth of opportunities for a successful hunt more than makes up for the slightly smaller average size of an Idaho bear.
As far as specific areas go, the Bitterroot Mountain area near the state's border is fairly renowned for both its lush beauty and variety of black bears, so that's the first place to look. However, the real key to Idaho hunting is universally considered to be taking advantage of the generous baiting rules.
Bear size aside, there really isn't much more an easy-going bear hunter can ask for than what Idaho has to offer.
Bear hunting comes with its challenges and rewards along with the opportunity to capture one of nature's greatest predators. Successful bear hunting takes skill, the right equipment and unyielding persistence. If you decide to take on the challenge, there are many tips you should keep in mind so that you can accomplish your goal.
Reasons to Hunt Bears
Although some people may find it unethical to hunt bears, there are actually many good reasons why these predators should be considered as prey. Some of the top reasons to hunt bears include:
Population Control
Bear populations that grow too large can wreak havoc upon humans and other animals. This can especially be the case with black bears, which are known to be in high numbers across much of North America. Controlling bear populations keeps everyone safer and helps maintain a balanced ecosystem.
Population Preservation
Even though this may seem like a contradiction to the aforementioned point, it is also important to make sure that bear populations don't dip to dangerously low levels. Adult male bears are known to hunt and kill cubs, and eliminating some of these males from the population can help keep bear populations stable.
Excellent Meat Source
Bear meat was once a staple in many people's diets, and there are several nutritional benefits that come along with this food source. Bear meat is high in protein and iron and low in sodium. Plus, the large quantity of meat that can be harvested from a single bear can be used to feed your entire family for many meals.
Useful Fur
Bear fur can be used to make clothing, rugs and other practical items. Their coats also provide excellent insulation and are great for keeping you warm on the coldest days.
More Humane Than Factory Farming
Factory farms that supply meat to most grocery stores and restaurants often house animals in cramped and unsanitary quarters before they are slaughtered. Bears and other animals that live in the wild have the chance to live in a cruelty-free manner during their lives. Plus, most of the standard hunting techniques are more humane than the slaughtering methods used in factory farms.
Know Before You Go
Before you begin your hunting excursion, there are a few pieces of information you will want to know. Here are some of the top points to keep in mind before you begin bear hunting:
Get a Permit or License
Each state has its own rules regarding the types of licensing or permits you will need for hunting bears. You will need to submit an application and pay any necessary fees to the state's wildlife department before your license or permit can be issued. Certain states, such as Utah, also require you to apply for a bear pursuit permit if you plan to use dogs for bear tracking. Some jurisdictions only award licenses and permits throughout lottery drawing. Most places allow bear hunting in the fall and spring.
Purchase Hunting Tags
California, Alaska and a handful of other states require hunters to also purchase tags when hunting large game. You will likely be given a specific number of tags to be used for each bear you harvest. If you plan to hunt in an area that already has many hunters, you may have to enter a lottery to get your tags.
Hunting Restrictions
Some states have laws that prohibit hunters from killing bears under certain circumstances. For example, Colorado and the southern part of New York consider it Illegal to hunt or harass bears while in their dens or tending to their cubs. Some states also prohibit hunters from shooting any bear that is part of a group.
Allowable Hunting Methods May Vary within a Season
If you plan to hunt using bait or the aid of dogs, these methods may only be allowed during a certain period within a given season. Trapping bears may also be limited according to the time of year.
Fall is Usually Best
The fall season is generally the best season to hunt for bears, and you should focus most of your efforts during this time of years if your license or permit allows it. Autumn is the time of year when bears forage for most of their food to store up for the winter hibernation, which makes them meatier.
Visiting the Hunter Check Station is Mandatory
In most places, you will be required to stop by the hunter check station before being allowed to take any bear carcasses home with you. A single tooth from each bear usually needs to be submitted along with the root so that the rangers can determine the bear's age. This data helps park rangers know whether or not any hunting regulations need to be revised.
Firearms Regulations
You should be aware of the firearms regulations for the area in which you intend to hunt. Some counties ban the use of certain firearms or bullets. It is also important to know the regulations for any counties you plan to travel through on the way to your hunting grounds.
See a Taxidermist in Advance
If you plan to have a bear stuffed and mounted, it is wise to see a taxidermist before leaving for your hunt. Some taxidermists require anywhere from several weeks to a few months to complete their work, and you may even be put on a waiting list.
Service Your Vehicles Before the Season Starts
Whether you plan to use a truck, motorboat or other type of motorized vehicle during your hunt, you will want to make sure all the necessary repair and maintenance work is completed before you set out on your journey. Any mechanical breakdowns could cause you to become stranded and might make it impossible for you to complete your hunt.
Your Fitness Counts
Trekking through wilderness, carrying hunting supplies and climbing to an observation post will require strength and endurance, and you can make things easier on yourself by getting into better shape in advance. Cardio and strength-training workouts are great to do on a regular basis for at least a month before you leave for your hunt.
Practice Makes Perfect
Practicing your shots with a gun or bow and arrow can help you hit your targets with greater accuracy. You may even want to practice at a shooting range that has moving targets in order to simulate the effect of trying to hit a bear in motion.
The Gear
Without the right gear, you will have a hard time being successful in your bear hunt. Here are some of the top items you should purchase:
Hunting Apparel
Pants, jackets and vests with camouflage designs are among the must-have items for bear hunting. Sweaters and wind-control clothing are ideal if you plan to be in an area where the weather is cold. You can even find camouflage raingear for sale at most hunting stores. Snake leggings and chaps can protect you from possible snake bites. It is also a good idea to purchase a durable pair of gloves that will keep your hands warm and prevent certain injuries. For headgear, a cap, beanie or reversible facemask will work wonders.
Orange Vest
When you plan to move from your hunting post, wearing an orange vest will make it possible for other hunters in the area to see you. Wearing one of these vests can literally save your life by letting the other hunters know that you're not some type of potential prey moving through the forest. Most of these types of vests are made from polyester or other lightweight materials and easily fit into hunting bags.
Hunting Boots
You will want to bring along a pair of reliable waterproof hunting boots that can prevent your feet and socks from getting wet while crossing streams or trekking across dampened landscapes. These boats should also have excellent traction so that you avoid slipping. Boots featuring camouflage designs can help you blend into your surroundings.
Gun
There are many rifles on the market that are great for hunting bears. A rifle with a big caliber that is capable of firing large bullets is generally best to have. Some of the best guns are manufactured by Winchester, Marlin and Remington. However, even with the right gun, it is still important to master the proper shooting techniques so that each shot you take has the most effective impact on your prey.
Ammunition
Generally speaking, any bullet that is of a high quality will be effective in killing even the largest bears. Pointed bullets usually have greater velocity than their round-nosed counterparts and can be more effective in penetrating the target. You will want to bring enough ammunition with you so that you don't run out during your hunt. You should also take into account that some of your ammunition may get dropped as you trek your way to your destination.
Bow and Arrows
If you prefer using a bow and arrow to hunt for bears, you can choose from bow options such as recurve, compound or crossbows. You will want to get a bow that has the capacity for a draw weight of at least 50 pounds in order to have the greatest impact on your prey. Broadhead arrows are usually best to use because of their ability to fatally wound bears more effectively.
Hunting Knife
You can use your hunting knife to help you skin and carve meat, cut rope and perform a variety of other tasks. For bear hunting purposes, it is generally best to use a knife with a fixed blade since you will be dealing with larger game. You can use the sharper side of the knife to carve meat and the other side for cutting through bone. Blades made from carbon, stainless or vanadium steel usually work the best. It is important to not use a knife that is too big (like the size of a sword) because it will be less effective in slicing the meat.
Knife Sharpener
There are sharpening rods and battery-powered electric sharpeners on the market that are capable of preventing the blade on your hunting knife from becoming dull. Whichever option you choose, make sure it is small and light enough to carry but is still capable of doing the job.
Binoculars
A good pair of binoculars can help you see your prospective prey from faraway locations. The top binoculars on the market allow you to see vivid images and view a broad range. You can adjust magnification settings for an even closer view. Certain binoculars are even waterproof and can be mounted on tripods for greater stability.
Scents
Scents that come in aerosol, spray bottle and powder form have the power to attract bears. You can apply these scents to bushes, trees and logs and wait for your perspective prey to emerge. Certain scents are made to smell like female bears in heat or urine of certain animals that bears commonly feed upon. Any scents formulated to emulate the smell of meats, vegetables or fruit will generally work well. There are also products that are useful for masking your own scent so that bears won't be able to detect your presence.
Decoys
As with scents, decoys can be used to lure bears to a particular area. Decoys made to look like deer, cows and turkeys positioned in their natural stance are often highly effective. Some of the best decoys on the market are collapsible and easy to reposition in new locations.
Bear Calls
Using a caller that emulates the sound of a distressed animal is another great way to attract bears. You can find calls that are made to sound like rabbits, deer and moose. Callers that sound like female bears (sows) in heat can also be used.
Camping Supplies
You will likely be camping out in the wilderness for at least one night while on your bear hunt, so you will want to have all the right camping gear. A tent that provides excellent ventilation and is able to shield you from rain, snow or harsh sun rays is always a good idea to bring. A sleeping bag that can keep you warm during cold nights or cool enough when temperatures rise should also be brought. Other items you should consider bringing include outdoor cooking gear, foldable chairs and a portable generator.
Camera
You can purchase a game or trail camera that allows you to take videos and time-lapse photos. Certain cameras also come with infrared features that are capable of capturing clear images at night. You can place your camera in a hidden spot to see whether or not bears are frequenting a particular area.
Locator Device
If you are hiking through dense forestry to reach your hunting grounds, you will definitely want to know the direction in which you're traveling. Just about any compass will help you know whether you're traveling north, south, east or west. For something more technologically advanced, you can pick up a GPS navigator that shows detailed maps and also has a built-in two-way radio if you need to call for help.
Flashlight
Even if you only plan on hunting during the daylight hours, you may still need a flashlight to see your way through dense forestry or if weather conditions limit visibility. You will want to purchase a waterproof flashlight that is shockproof and able to withstand impact. Some of the most popular ones on the market are made with durable pocket clips and feature high, low and strobe settings.
Fire Starter
A reliable fire starter will make it possible for you to quickly light a fire for cooking, light and warmth. You may even need to light a fire if you become lost in a remote area and need to be located by rescuers. Waterproof matches and fire sticks are also smart to bring along.
Bug and Insect Repellant
Bug and insect repellant can work wonders while you brave the outdoor elements. Not only are bug and insect bites bothersome, they can also cause problems such as fevers and serious infections. You can choose from aerosol sprays, lotions and wristbands that contain repellant formulas. Garlic, lemon grass and other natural sources are also known to work.
First Aid Kit
If you become injured, having a fully stocked first aid kit with you can be a lifesaver. Some basic items you should have in your kit include adhesive bandages, alcohol swabs and pain relievers. You may also want to bring along some alcohol swabs, medical tape and poison ivy cream. A pair of tweezers can work wonders in removing any splinters you might get.
Hunting Bag
To carry all your supplies, you will want to invest in a hunting bag that has enough space without weighing you down. You can find bags with camouflage designs that blend seamlessly with your hunting apparel. Style options include backpacks, duffle bags and sling packs. There are even bags that are made to float and can keep all your supplies dry.
Dog Supplies
If you are planning to bring along hunting dogs, having the right supplies can keep your canine companions safe and happy. Dog food and bowls as well as flea and tick sprays should always be on you. You may also want to bring some booties to place over their paws if you plan to hike along any rocky terrain.
Safety Tips
Your personal safety should be your number one priority while you're out bear hunting. Keeping the following safety tips in mind can help ensure that you return home unharmed:
Notify Someone of Your Whereabouts
You will want to let a family member or close friend know where you are headed before setting out on your hunting adventure. If something bad should happen to you and you aren't able to call for help, this designated person can alert the proper authorities and let them know of your whereabouts.
Don't Hunt While Intoxicated
As with operating any type of motorized vehicle, you should be completely sober while hunting. Even being slightly under the influence can impair your judgment and compromise your safety.
Exercise Gun Safety
A good rule of thumb is to treat every gun as if it is loaded. The safety mechanism on your gun should be enacted when you're not actively hunting. You should also never place your finger on the trigger until you are ready to fire.
Bring Bear Spray
Certain forms of pepper spray have been formulated specifically to deter aggressive bears. Many sprays can be used on bears that are more than 25 feet away and will give you enough opportunity to flee if your gun isn't on you.
Watch Out for Other Hunters
Other hunters wearing camouflage may be lurking in the bushes, and you will want to make sure that you don't accidentally shoot them. You should also be careful not to accidently get in the line of fire of another hunter.
Scout Your Target Before Firing
You may have the impulse to just pick up your gun or bow, aim and fire immediately once your prey comes into sight. Before you decide to shoot, you should check to see what is in front of, around and behind your target. If you happen to miss, you could be putting yourself or other people in danger if your bullet or arrows misses your exact target. It can be especially dangerous if you fire near a farm, campground or the outskirts of a residential community.
Pair Up
Pairing up with another hunter or going with a group of hunters can provide a safer alternative to hunting alone. Not only will you be able to look out for one another's safety, your chances of success are likely to be greater when you have others working with you.
Close Encounters
If a bear catches you off-guard and you don't have your weapon on you, you should follow these steps:
Avoid running. Bears can run much faster than you and will be more inclined to chase you down if you try to flee quickly by foot. However, if the bear hasn't seen you, it is best that you get out of its path and retrieve your weapon as quickly as possible.
Bears often charge without a serious intent to attack. If a bear is headed your way, stand tall, wave your arms and shout loudly. This show of aggression may be enough to scare off the bear.
If a bear decides to attack, it is best to play dead and curl your body into a fetal position with your hands covering your head. Once the bear leaves, stay still for a few minutes longer so that the bear doesn't see you move.
Types of Bears
Each bear species has its own unique characteristics. Different bears can be found in different wildlife areas and are known to exhibit particular behaviors while foraging for food. Here are a few of the most common bear species and the locations where you may find them:
Brown Bears
Large brown bear populations can be found in the Northern Rockies and Great Plains regions as well as Alaska and the western part of Canada. Known for their thick fur coats that range in color from brown to more of a reddish tint, these bears often hunt for their food in streams and in other places that are lower in elevation. Not just limited to meat consumption, brown bears are also known to gather food where berries, wildflowers and mushrooms are commonly found. They can grow to over nine feet in length and weigh close to 800 pounds. Brown bears are sometimes known to be more nocturnal in nature and can also be seen in the early morning and evening hours.
Grizzly Bears
This subspecies of the brown bear commonly inhabits the western part of the United States and Canada. Although some may consider these bears to be the same as brown bears, they generally live farther inland and are known to exhibit some different characteristics. One of the main physical differences is their noticeable shoulder humps. The largest of these bears can grow up to six and a half feet long and weigh almost 800 pounds. Fur color can range from dark brown to a shade of blond. Grizzly bears can often be found roaming around rock faces in the high country as they forage for food during the summer months. They usually spend around six months out of the year hibernating in their dens.
Black Bears
These medium-sized bears are the most common types in North America and can be found in wilderness regions across Canada as well as the eastern and western parts of the United States. The largest of these bears weighs around 550 pounds with a body length of approximately six and a half feet. Most black bears have black fur color, but some may have a light brown or blond coat. Their hibernation period usually ranges anywhere from three to eight months. A large part of a black bear's diet is made up of vegetation sources such as berries, nuts and grasses. They commonly make their homes in areas with dense forestry and are also known to search around campgrounds and other areas where people often discard food. The months of April, May and June are particularly ideal for black bear hunting.
Hunting Tips
There are many different methods you can try when hunting for bears. Certain techniques are known to be highly effective and can greatly improve your success rate. Here are a few of the top tips when it comes to hunting bears:
Look for Tree Markings
Bears often leave their claw marks on trees. If you find any of these marks, it is a good indication that bears may still be in the area. You can also gauge the size of the bear depending on where the marks are left on the tree.
Scout for Tracks
Another great way to find a bear is to look for any fresh tracks it may have left behind while moving through a particular area. Places with wet soil, such as wetlands and the shores of lakes and rivers, are among the best locations to find bear tracks. A bear that leaves a track measuring at least five inches long may be worth pursuing due to its larger size.
Go to the Food Sources
Knowing the types of food that bears commonly eat and where these food sources are located is advantageous to any hunter. These feeding grounds are likely to attract more bears that are ideal for hunting. Areas near the shores of rivers and lakes as well as places where fruits and berries grow in abundance are among the top spots to find hungry bears.
Create a Food Bait
One of the best ways to attract bears to a specific area is to put together a pile of fruit, meat and other foods that bears like to eat. You can even include bread and dog food to the pile. Once the pile is made, cover it with large branches so that smaller animals don't get to it first. If you don't catch a bear in the act of raiding the pile, you can try following its tracks and any claw marks it may have left in its path, which may even lead you to other bears in the area. Some hunters who are more selective about the types and sizes of the bears they hunt even choose to watch a certain bait site over several days or weeks to find the perfect prey.
Hang Scents from Trees
Another clever idea for getting bears to come to you is to create a path using scents hung from trees. Particularly if the wind is blowing in the right direction, bears can catch a whiff of these scents and head straight in your direction in search of a presumed food source. Some hunters have found success using everything from beaver carcasses to tampons soaked in certain oils that are known to entice bears.
Find a Higher Observation Point
If possible, you should move to an observation point that is located at a higher elevation so that you can survey your hunting ground more effectively. You might choose to move to the top of a hill or large rock or scale a tree with a tree stand and wait in a safely perched spot.
Be Mindful of Wind Direction
The wind can carry your sent a long distance to a bear's sensitive nose, which may cause the animal to flee. You can trust your own judgment or use a device to help you determine the direction of the wind. There are even bottles filled with powder you can purchase that can accurately tell you which way the wind is blowing when squeezed. It is generally best to move in a direction with the wind blowing in your face or across your body so that your scent doesn't travel ahead of you. You may have to adjust your route according to the wind direction.
Stay Silent
If you're pursuing a bear, it is important to walk slowly and remain as silent as possible. Bears have very keen senses of hearing, and the slightest noises can put them on alert.
Aim for the Middle Chest
The middle chest cavity contains most of the vital organs, and a bullet or arrow that hits this area can fatally damage several organs at a time. Hitting a different area on the bear's body may not be enough to kill it, and a nonfatal hit could cause the bear to quickly flee from your range. Many hunters find the double lung shot to be highly effective.
Closer is Better
Even though you may be leery about getting too close to a bear, you can get a cleaner, more effective shot the closer you are. If you're too far away, the shot may be less fatal even if you hit an area with vital organs.
Avoid Shooting Mama Bears
If you see a sow with her cubs, it is generally best to let her be unless she tries to attack you. In addition to the ethical and legal ramifications that might come along with shooting mama bears, you could actually be doing yourself a disservice by hunting them. Killing the mother will almost guarantee that her cubs will soon die thereafter. These cubs could be ideal for hunting when they grow to adult bears, and killing them early may limit your opportunity for future hunts.
Best Dogs for Bear Hunting
If you're planning to use dogs to aid you in your hunt, there are certain breeds that have the instinctive ability to track bears successfully. These breeds are considered to be among the best for bear hunting:
Karelian Bear Dogs
These appropriately named dogs have long been used in Russia and Scandinavia for hunting bears and other large game. Known for their black and white coats, pointed ears and quick reflexes, this breed can aggressively pursue and attack bears. Some state parks even use these dogs for bear control purposes.
Plott Hounds
They can use their keen sense of smell to track old bear scents and lead hunters to their prey. You will know these dogs are on alert when their tails are held high. Their strength and agility allow them to chase and corner bears successfully. When in a pack, these dogs can even attack bears and chase them up trees for easier hunting.
Norwegian Elkhounds
In addition to tracking elk, these hounds are useful in bear hunting because of their acute sense of smell and fearless nature. Characterized by their medium square builds and thick coats, these dogs were even used by the Vikings and have the ability to distract bears with their loud barking.
American Bulldogs
The powerful jaws of these dogs allow them to grip onto bears and hold them in place. Their muscular legs provide additional strength for chasing and fighting and even allow them to jump distances of more than three feet.
Mountain Curs
Their speed and ability to navigate efficiently through water make these dogs ideal for bear hunting. Many hunters specifically like to use these dogs for the purpose of treeing bears. Mountain curs are also known to be highly intelligent and protective, and some have even been known to fight large predators to the death if they feel their owners' lives are at risk.
After the Hunt
Once you have captured your prey, there are certain steps you should follow. Here are some best tips to keep in mind:
Skin Immediately
After the bear has been killed, it should be skinned immediately so that the flesh on the carcass stays cool and fresh. Even if outdoor temperatures are cold, the bear's fat and pelt could keep the body temperature warm and spoil the meat. The heart, lungs and guts should also be removed as soon as possible so that the meat stays cooler.
Don't Remove Genitalia
Many hunter check stations need to record information regarding the sex of each bear that was killed for statistical purposes. The genitalia should remain attached to the hide until after you have visited the station.
Place Meat in Bags
After you have visited the hunter check station, it is important to cut the meat into smaller pieces to be placed into game bags. Using plastic bags is inadvisable because of their inability to cool meat faster. After filling your game bags, you can either take them home immediately to be stored in a refrigerator or you can hang them in a shaded area that has good ventilation.
Cook Meat Thoroughly
Once you get your meat home, be sure to cook it thoroughly to kill any germs and parasites. Bear meat is known to contain trichina roundworms, which can cause a parasitic infection resulting in fever, edema and myalgia.
Hunting bears may be difficult at times, but pursuing and capturing the ideal prey can give you a great sense of personal achievement. Having the right gear and knowing the proper protocol can help you reach your goals while bear hunting.